Dust isn't the only thing you need to brace yourself for when having your home rewired.
As someone whose day job is working on a magazine about self build projects, I still feel very naïve about certain elements of a renovation project, and living in it, well, that's something else.
We knew that the first big job on our house was having electrical work done; ALL of the sockets and switches needed some kind of attention. They were either in an awkward location, needed to be removed in prep for a dividing wall coming down, or they protruded from the walls due to previous work being carried out in a more cost-effective way (surface mounted wires covered with PVC cable trunking).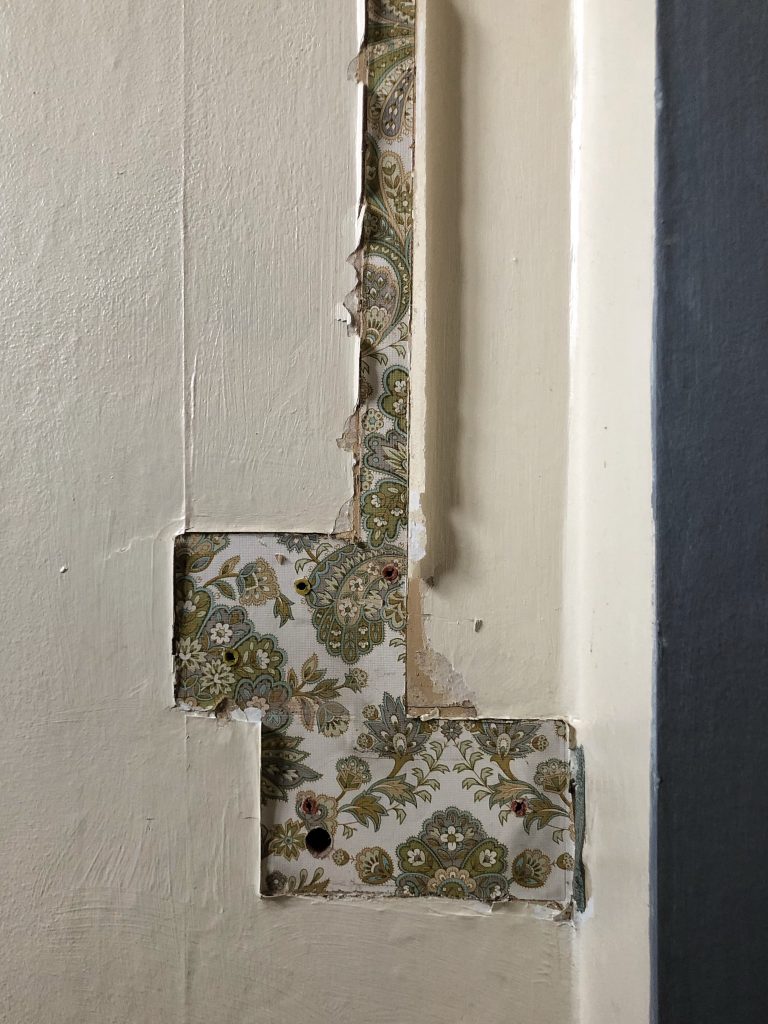 So we knew it was a big job and we knew it would be disruptive and messy, but I still wasn't prepared for all the challenges that we were faced with.
In a bid to prepare anyone who is about to go through something similar in their home, or if you are considering a renovation project, here is a list of six things that I wish I had taken more seriously before electrical work began.
[Please note, I am not an electrical or lighting expert. The information provided below is my opinion based on my personal experience.]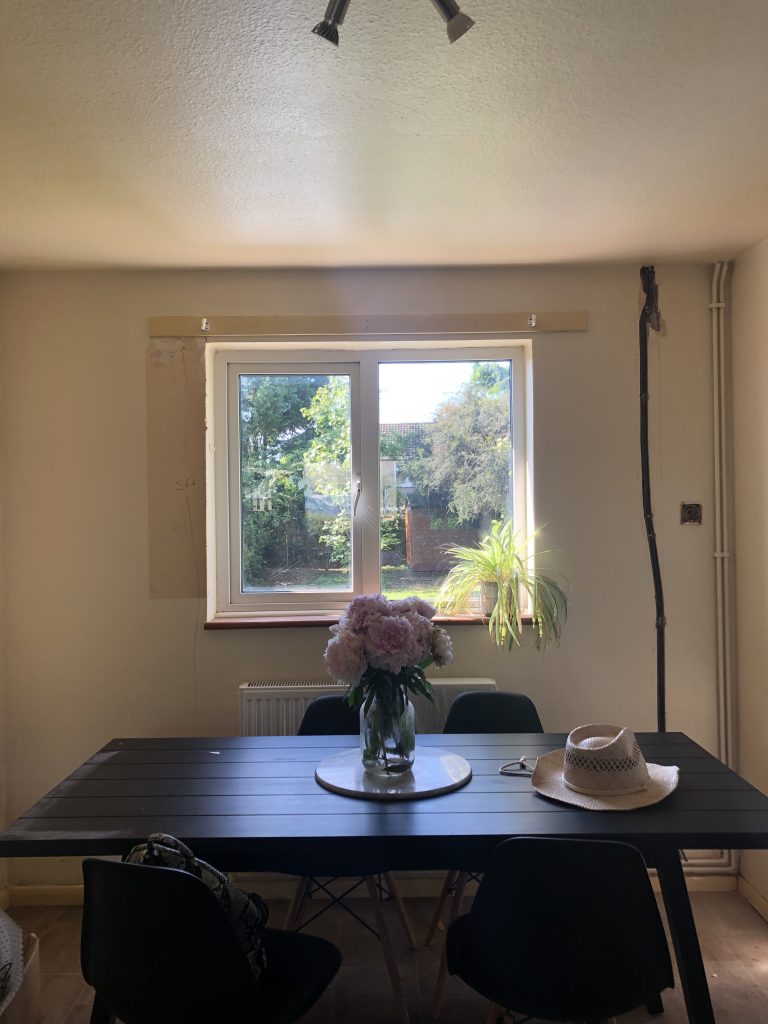 1. Know your design layout
Now this sounds like an obvious one; you need to know where your sockets and switches are going, right? And you need to be able to tell the electrician that before he starts, right? Right. Well, if you're not working with an interior designer or architect, and you're designing the room layout yourself, then it's important to have a clear plan.
For example, when it came to our kitchen, the electrician started asking for specific details. He needed to know the exact number of spotlights we wanted and the measurements of where to fit them, he needed to know if we wanted one or two pendant lights in the dining area, he needed to know exactly where we wanted the new double sockets to sit and how far above the kitchen worktops….and that's when I realised that I hadn't even thought about how many appliances I would have sitting on the worktops.
Now of course our electrician gave us advice and could explain what he would standardly do, but it was down to us to make those final decisions, and ideally you want to be able to confidently tell your electrician exactly what the plan is.
So, if you're redesigning a room layout yourself, my advice is this:
Mock up a floorplan and include all sockets and switches
Make a list of all the regularly used electrical items in your house to help determine how many sockets you might need
Think about where large electrical items such as your TV are going to be positioned
Look at where your main entrances/exits are as that might be where you want switches to go
If you can't afford a lighting designer, read as many blogs as you can for lighting tips – it's a real skill!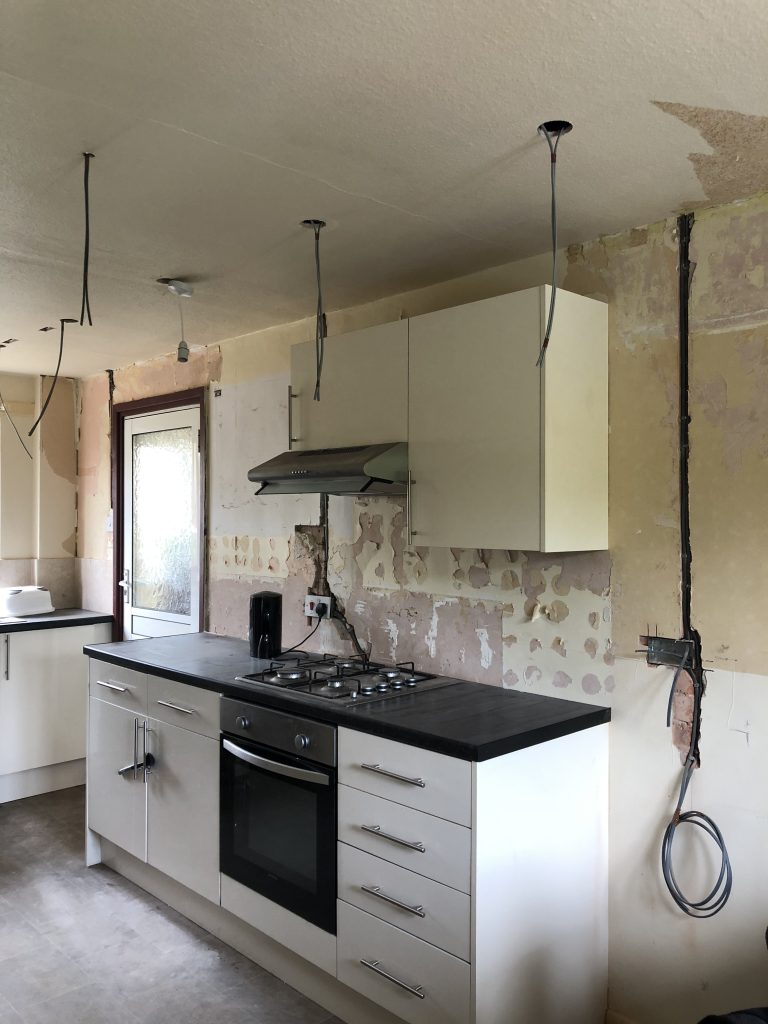 2. Clear all work areas
You can save precious time and effort by ensuring that the areas of work are clear and easy to access. We accidently did this as we dont have a lot of furniture at the moment and lots of belongings are still stored away. However, don't underestimate the space that will be needed to get the work done; it won't necessarily just be the room where the sockets and switches are fitted, as wires run behind walls, up through ceilings and under floorboards – they will come up!
Our electrician was happy to move items around as need be, and I'm sure that this is pretty standard, but it just makes it much easier if you try and clear the working space beforehand.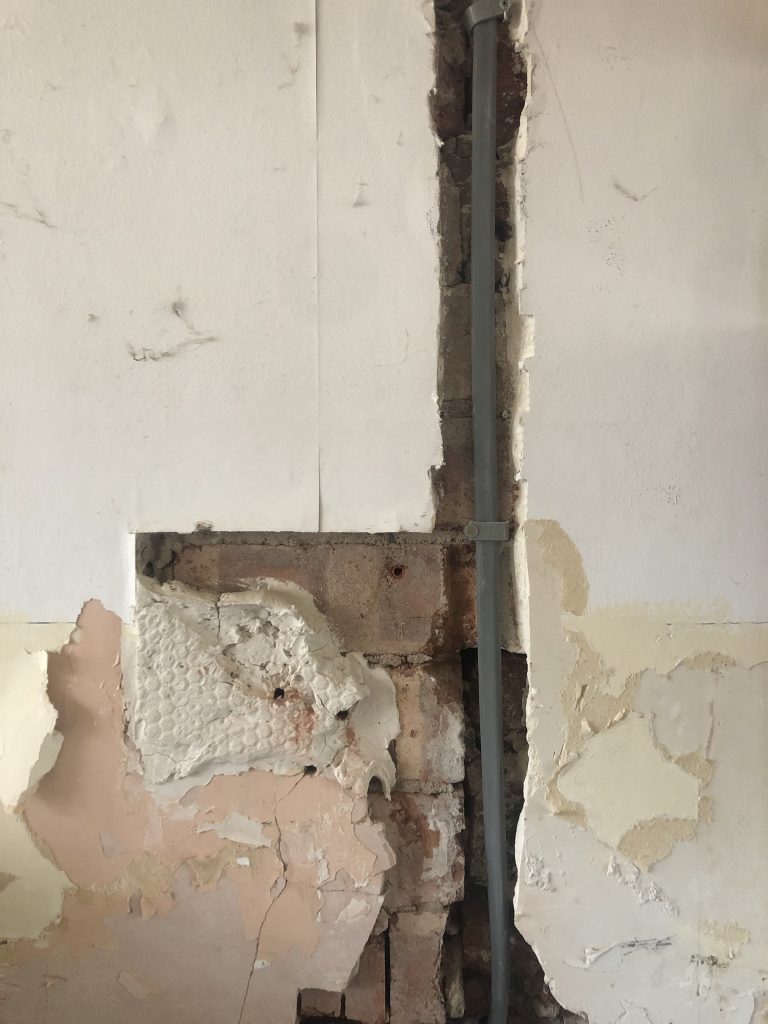 3. Get out of the house
During the work, you may potentially have little or no access to electricity – we had a day with no electric and no water, but that's a story for another day. If you're having recesses drilled to make way for new wiring, then things are also going to get rather loud. If it had just been me in the house I might have been able to bare it – headphones in! – however with a toddler and a dog, it really wasn't do-able, and unfortunately we had rubbish weather on most days so even the garden didn't provide much sanctuary. So make sure you plan ahead to get out and about – all day if you can!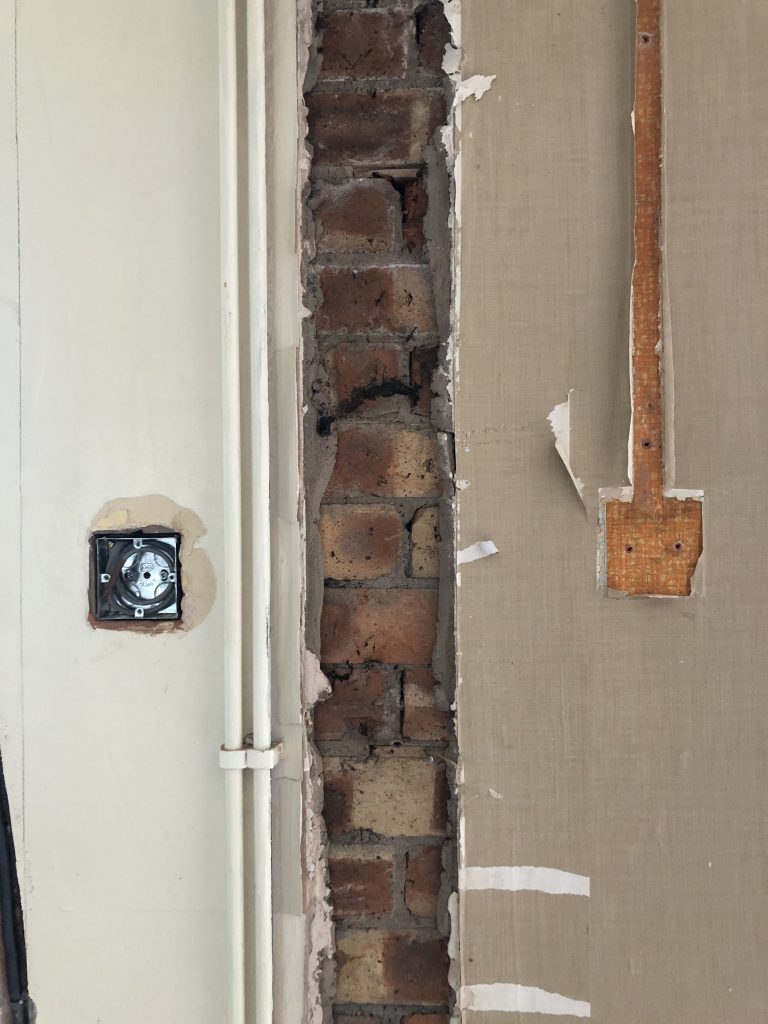 4. Give your neighbours a courtesy knock
Probably my biggest regret was NOT giving my neighbours a courtesy knock! If you live in a semi-detached or terraced house, make sure you warn your neighbours about the upcoming work, and let them know dates/times. As we left the house most days I didn't really grasp how loud it was until I arrived home early one day and heard the drilling first-hand. Luckily, our neighbours are pretty chill and understanding (having since spoken to them about it) but it's definitely something I would do differently going forward.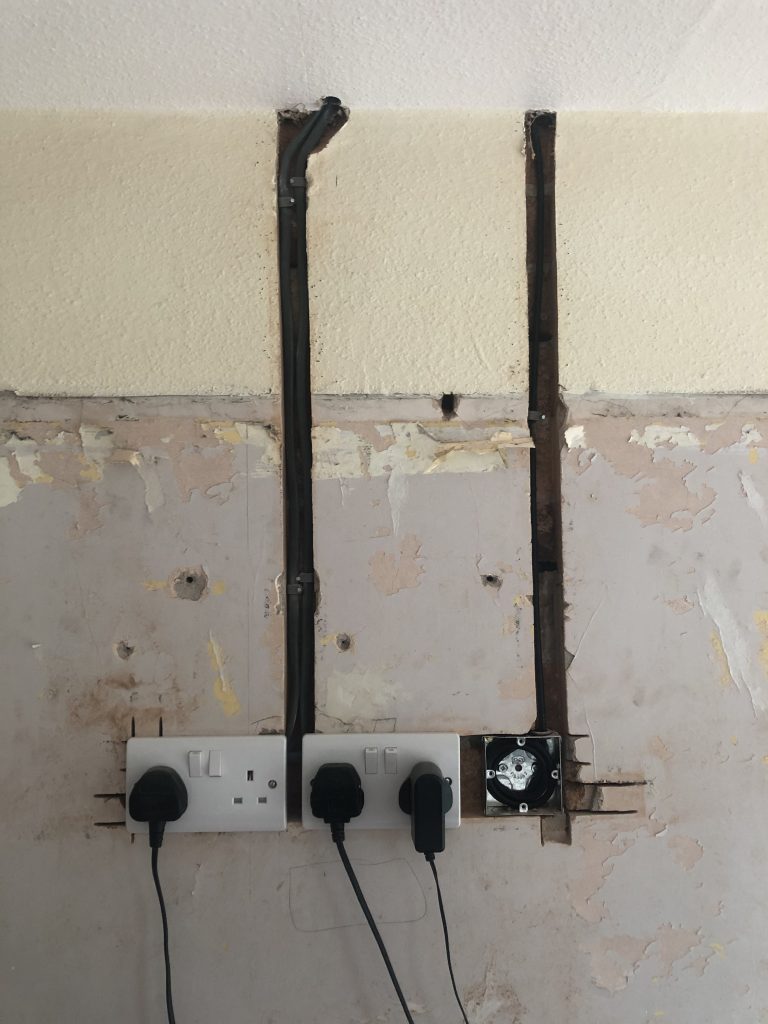 5. Research fixtures and fittings
Had I been more organised, I would have researched non-standard fixtures and fittings ahead of time, and had them ready for the electrician to fit; or better yet, contacted the electrician ahead of time to see if he could source them at trade price. Obviously, if standard fittings work for your budget or taste, then there is no need to think about this. However, if you did want more unique electrical finishes then it's worth putting in the research time.
Luckily, our electrician is coming back in a few weeks to do a final fix (post-plastering) and he is going to switch-out some of the standard fittings for new ones that I have since sourced, but it's something that I wish I had started preparing for beforehand.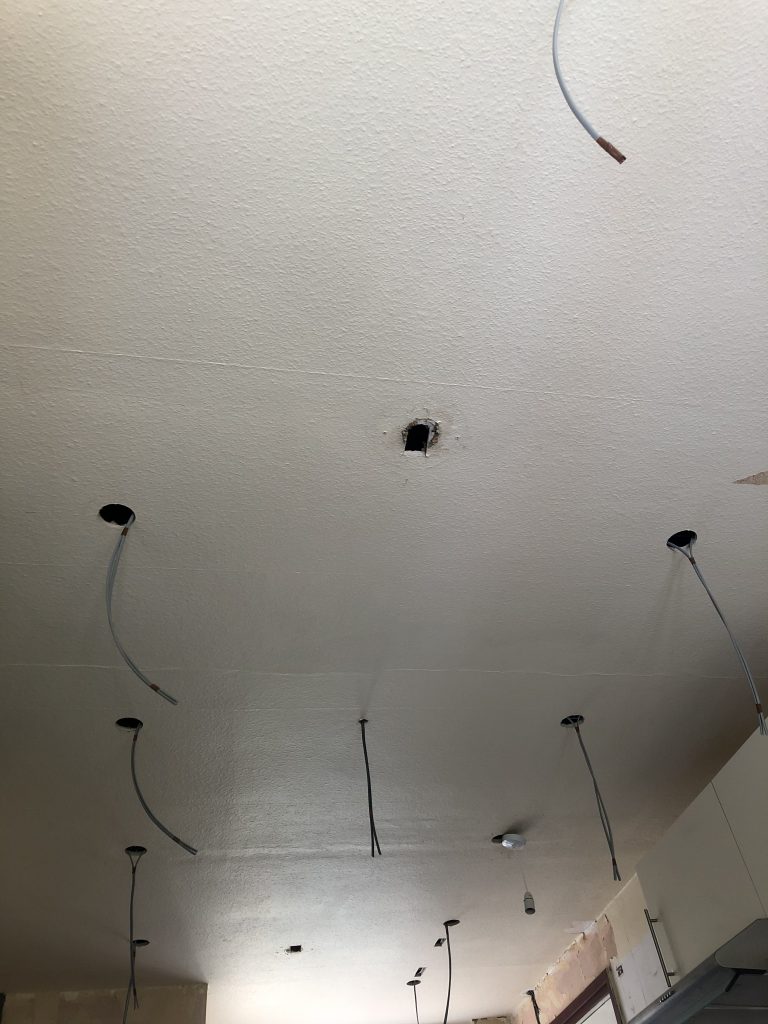 6. Be prepared for dust
My number one thing that I wish I had known, or taken more seriously: DUST! The kind of dust that drilling generates is the kind of dust that gets into every nook and cranny, and no matter how much you clean, you'll keep finding it everywhere.
You can prepare by packing non-essential items away and covering up your furniture. We don't have much furniture at the moment and nothing valuable, but having a toddler means that the dust is a real concern and we spent a lot of time hiding away in one room until it settled.
So there you have it, some of the lessons I learned from having our house rewired.
Have you lived in a house whilst major electrical work was being carried out? What was your experience like? And what did you learn? Have I missed anything off my list?
Let me know.
Rebekah x
Pin For Later: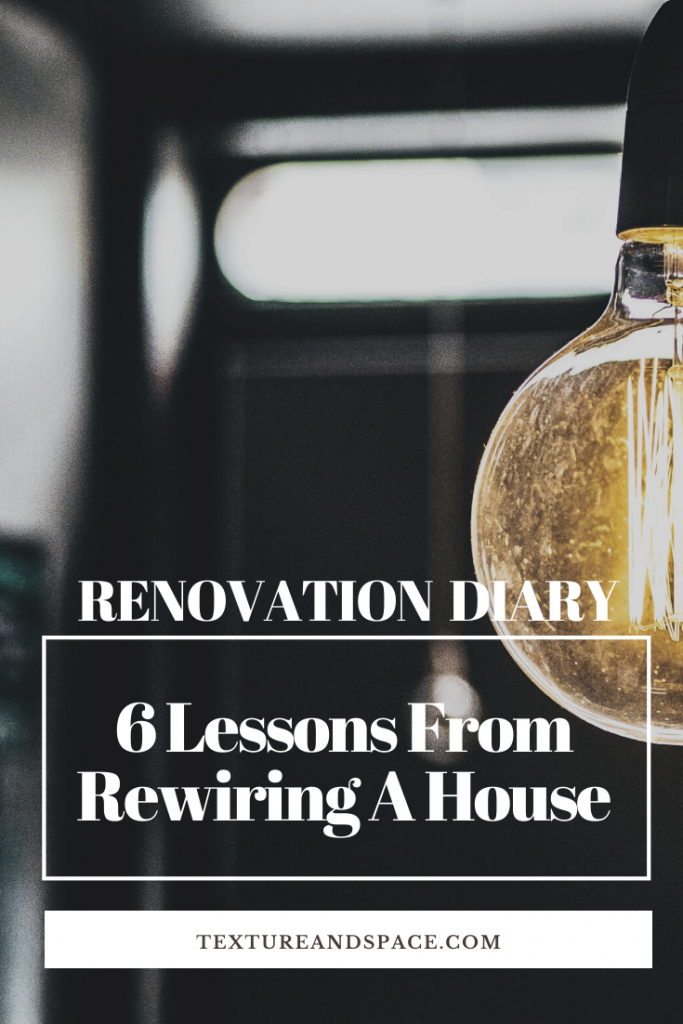 Featured photo by Anthony Indraus on Unsplash