Cat Patterson is my achingly cool big sis.
Since we were kids I've always looked up to her individual style, and now I also admire her work ethic and her ability to parent with sensitivity and fun (she is Mum to a 5-year-old and a 7-year-old).
Aside from being my adored big sis, she runs a women's vintage clothing shop, Cat's Eyes, selling online via Asos Marketplace and Depop, mainly working from home. "I'm pretty obsessed with fashion and quite frankly anything to do with clothes," she admits, "with a sweet spot for vintage finds."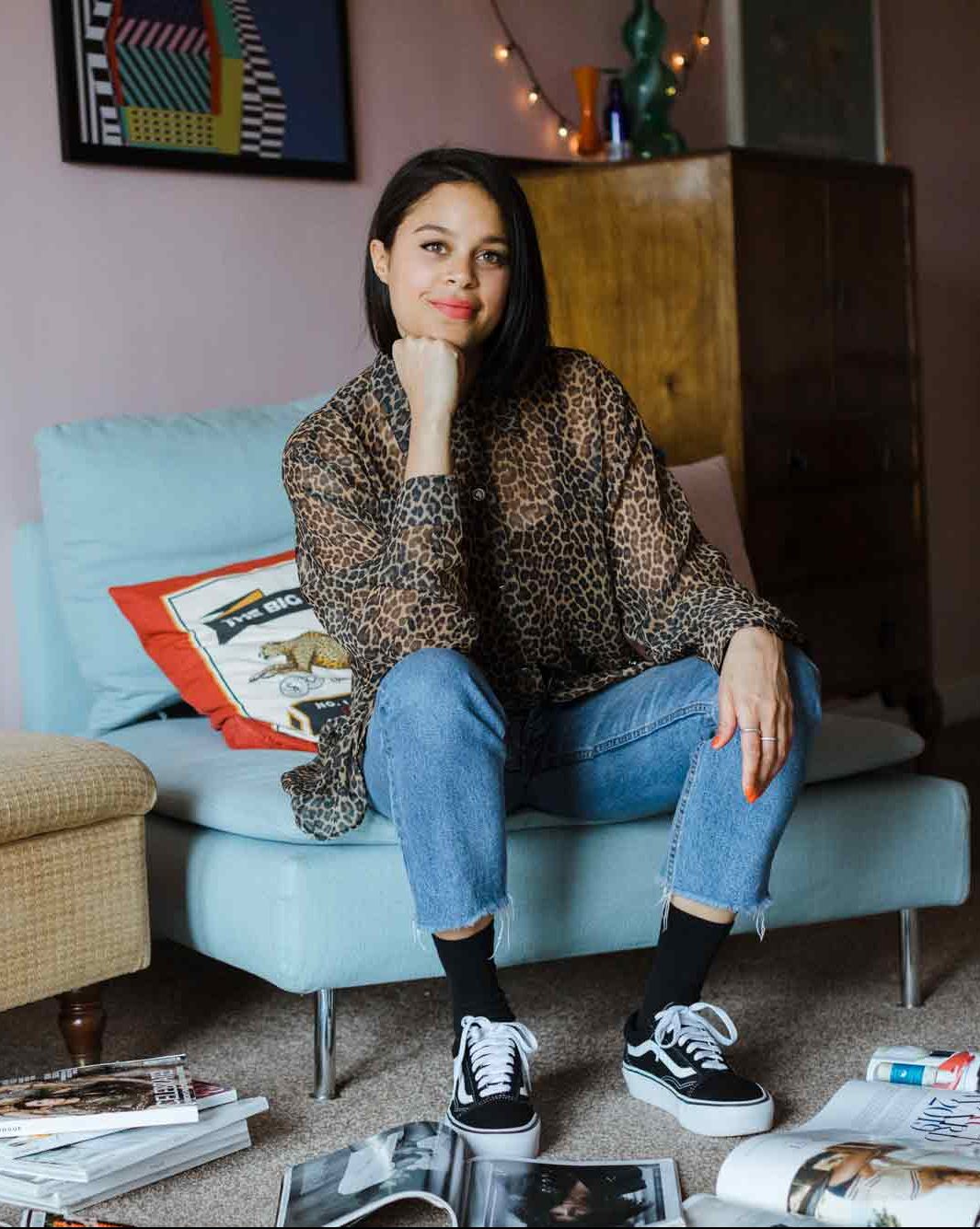 Cat lives with her two children (my niece and nephew are also achingly cool) in a rented 2-bed new-build flat. "We were the first people to live here which was a refreshing experience and a first for me," she says. "People are often surprised at how spacious the flat is when they visit for the first time."
I have seen firsthand how Cat's home has adapted over the 4 years that she has lived there, and it's been so exciting and inspiring for me – particularly a few months ago when she transformed her main living space into a dreamy pink haven.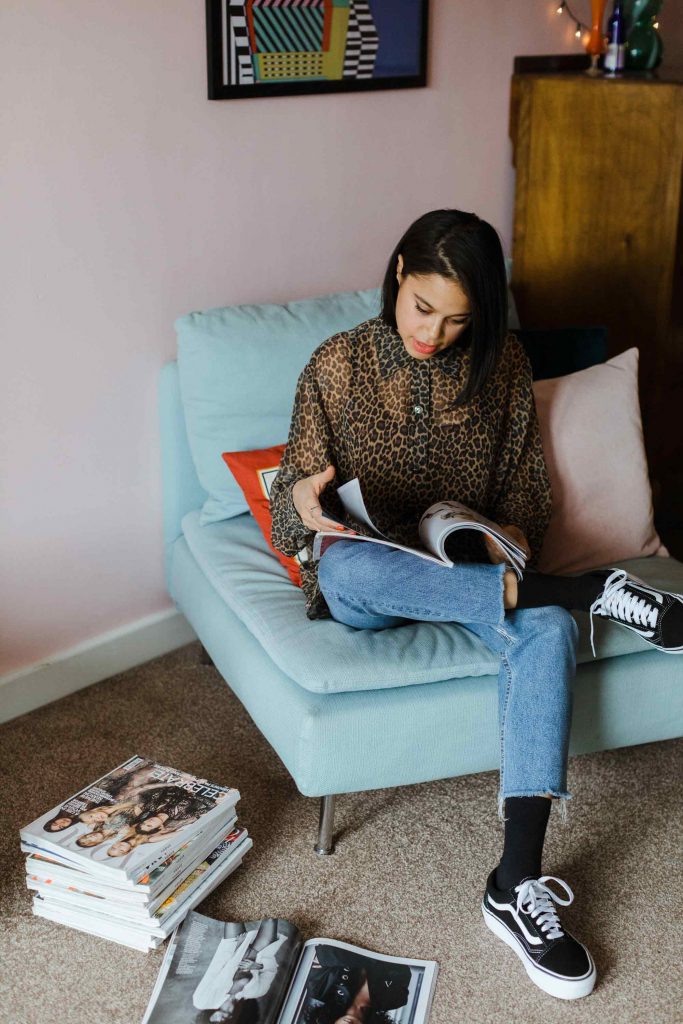 Proud about the way in which she navigates her life, I invited her to step a little outside of her comfort zone and answer some of my questions about running her business from home and how her personal style is reflected in the space she lives in.
Hey sis! Can you describe the main spaces in your home?
We have an open plan living room/kitchen with French windows overlooking our city's cathedral and it is just a lovely space. We really enjoy living here. The kids bedroom is a good size, it's bigger than the average lounge so it means we can divide the room into decent sized zones. The newest addition is the teepee zone. A little campsite area we've made especially during this social distancing time, which gives them their own personal space. It's been working brilliantly so far. My room is also a decent size double and accommodates all of my stock for my shop on rails and in under-bed storage!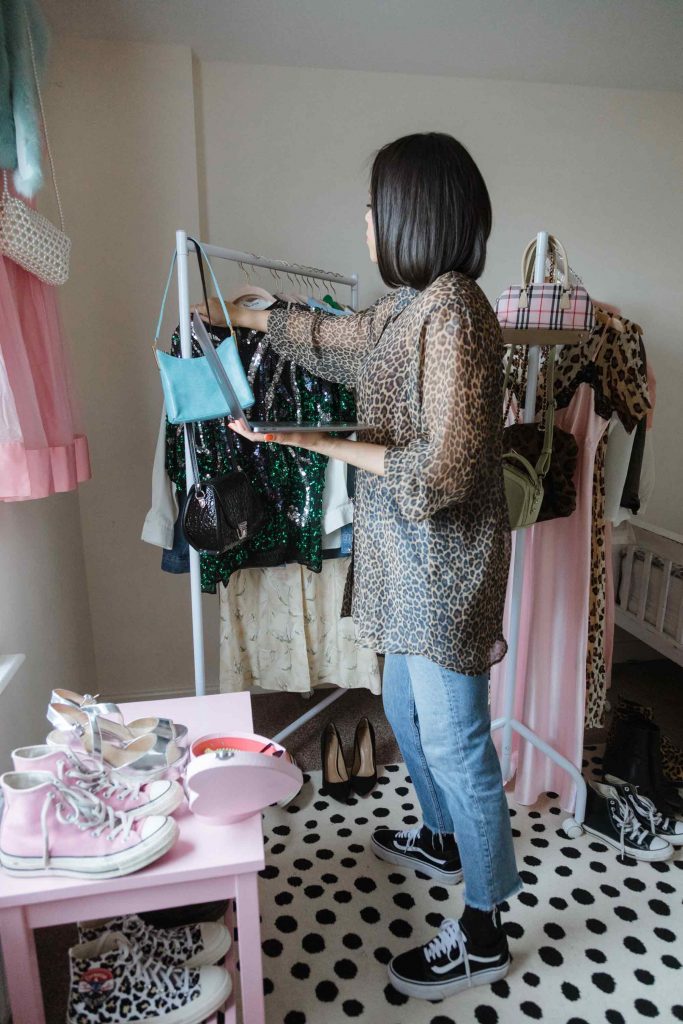 Do you have a designated area within the home for work?
Hmmmm, I use different areas depending on what I'm doing. The spaces I use at home for shooting product and content photos are my living room and the communal roof garden at the top of our building. Then when I'm uploading photos and listing stock I'm usually sat at my kitchen table with laptop and phone etc. to do that. Keeping on top of the social media side of work is often executed from the comfort of my bed in my PJs haha.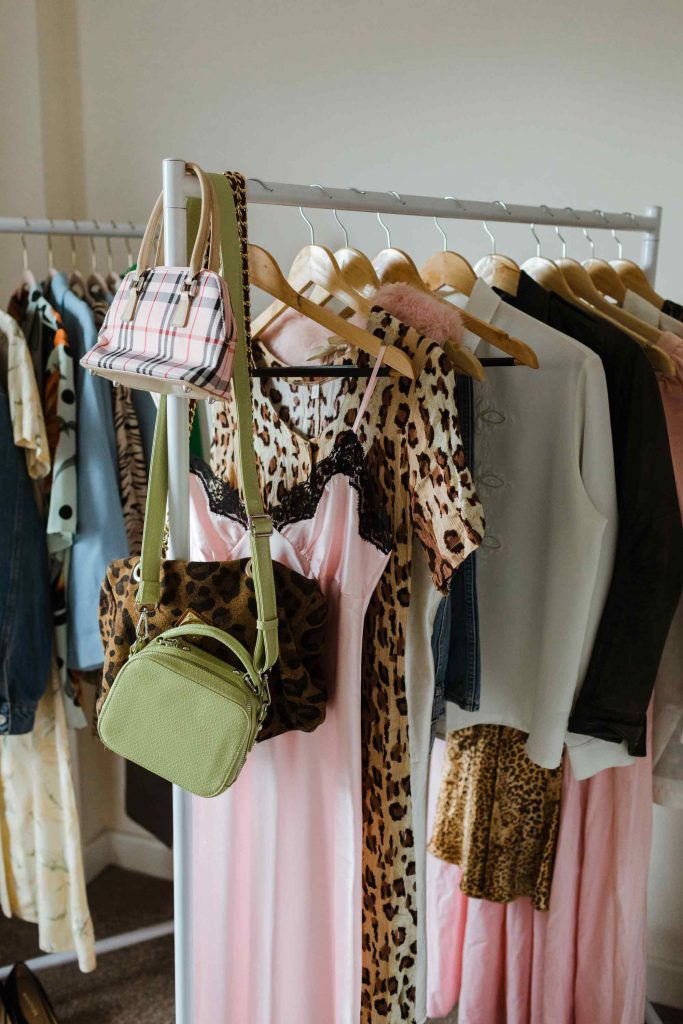 How do you balance your work-life roles within your living space?
When I'm working I am dressed, sitting at the table with my laptop.
What is your favourite thing about working from home?
Endless cups of tea! It's also within walking distance of lots of cool locations for taking photos, which means I can make good use of time on shoot days, whilst getting a wide variety of shots I can also be flexible with that side of things and do spontaneous shoots if the sun suddenly comes out for example.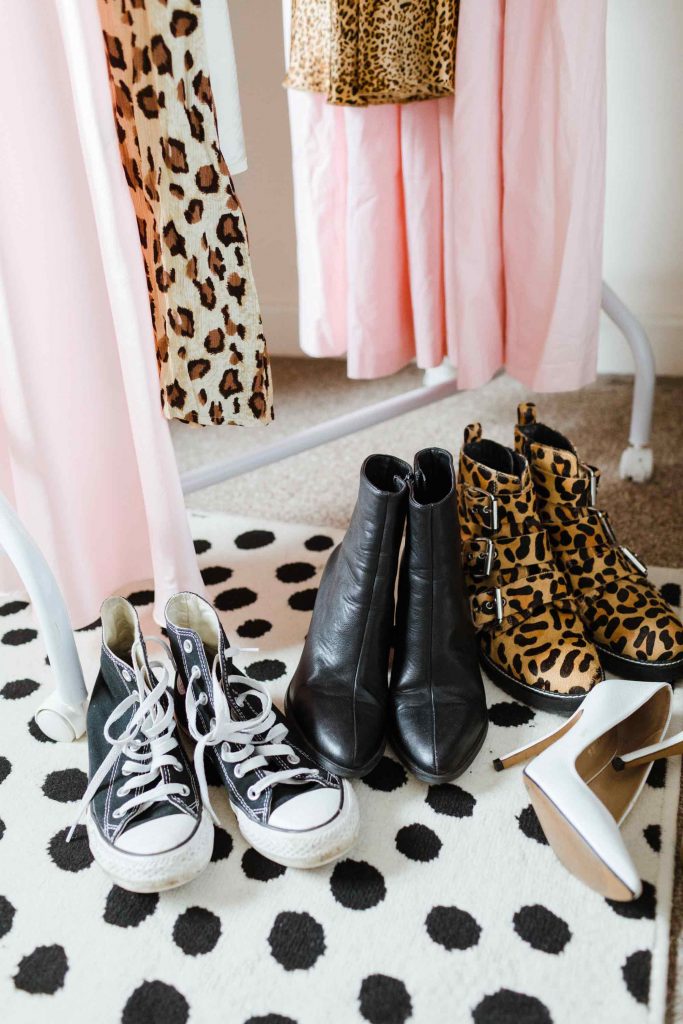 What is your favourite item in your home?
My favourite piece of furniture in my home is a vintage walnut sideboard. I found it in a local charity shop and it was a great price. It tempers the sweetness of my pink living room and brings a bit of an edge, which is something I revert to in my personal style. I just cringe internally at myself when something feels too put together.
How would you describe your interior style?
To be honest I haven't felt as confident with my interior style as I do with my personal style, (as in the way I dress). I think because I have always rented and moved about quite a lot I've not felt settled enough to decorate. So this flat I'm in now is the first time I have really put my stamp on a home. I feel like I'm still getting to know what my interior style is. But it is similar to my personal style. Feminine, pretty and colourful with pieces that give it a bit of a harder edge.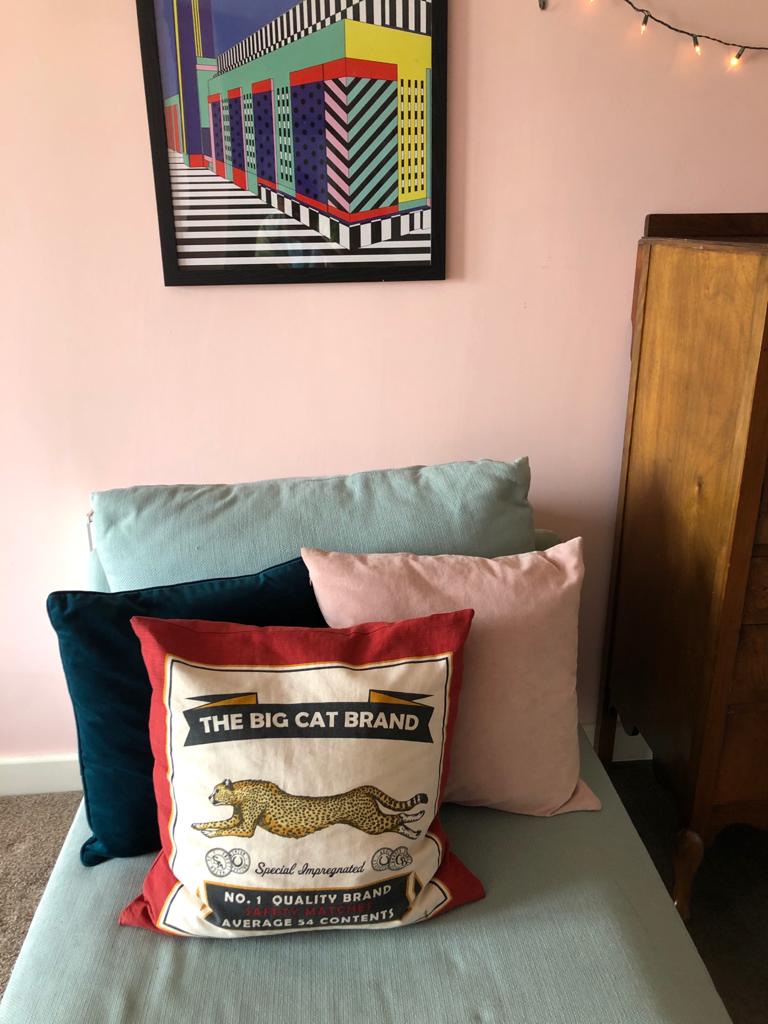 How is your personal style reflected in your home?
My personal style is a mash up of vintage pieces worn with modern to update them. Pink is hands down my favourite colour to wear and anything leopard print I am sold. Last year I finally took the plunge to get some colour on my walls and as a result I have a pink living room. I just couldn't settle for any other colour that would make me feel as happy. I'm so glad I went for it as I love it! There are hints of leopard print around the place too on cushions and wall prints.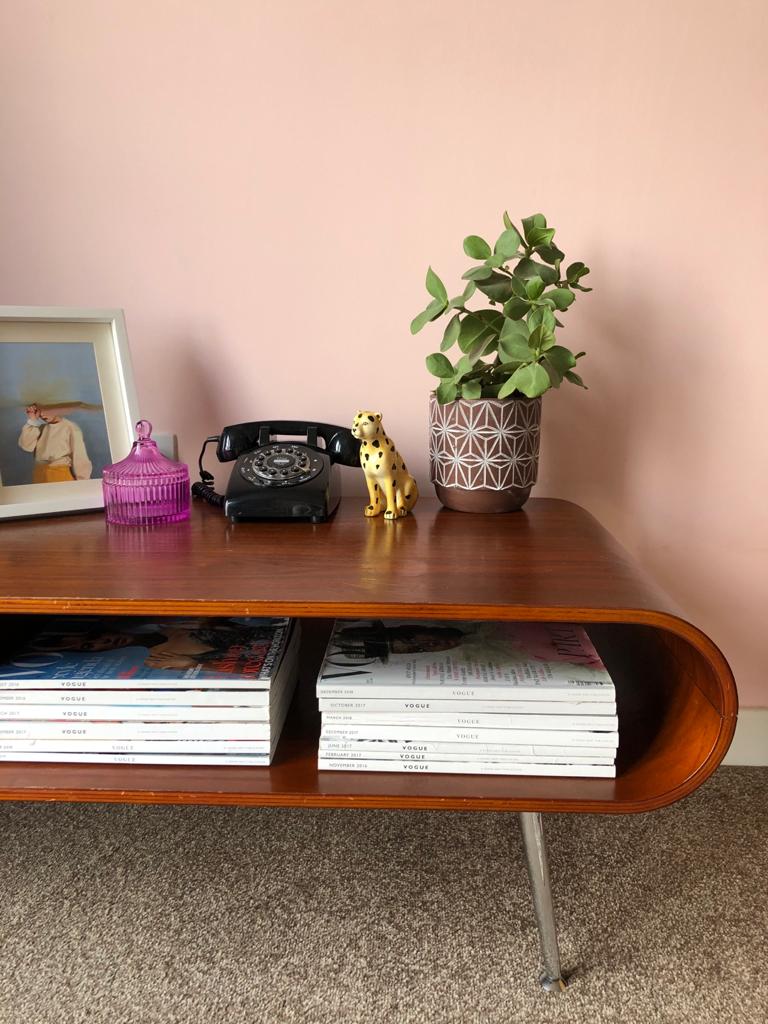 Do you have any favourite homeware brands?
MADE.com – I have a walnut retro style tv table from here which is beautifully crafted and I totally adore it. I also have several lamps from there and some velvet curtains. I love the variety, quality and good price points.
IKEA – no explanation necessary right?!
TK Maxx – forever drooling over the velvet armchairs in there
H&M Home – I love their cushions
George home – I like their printed rugs
Secondhand shops – Cause #sustainability and also its so cool to find something unique with character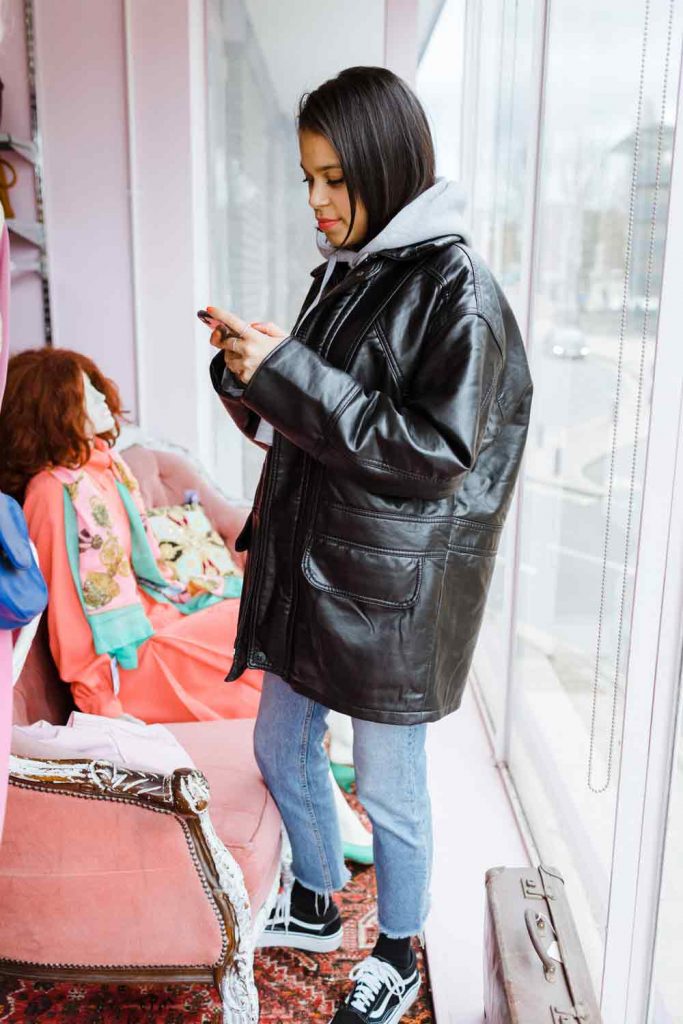 Cat's favourite TEXTURE:
"Leather, cause leather just always feels cool, plus its wipeable and thus practical and hardwearing. I also love the look and feel of velvet though. Can I specify that my favourite is soft pink velvet even though you've asked for a texture haha. I'm new to this interiors thing."
Cat's favourite SPACE:
"I love the Cathedral in my city which is over 1000years old. It is a grand, awe-inspiring building with a gorgeous light sand coloured brick on the exterior. I try to picture how they made it without modern equipment every single time I visit, it's huge! The interior is also a beautiful airy space, stained glass windows, striking pictures and plaques etc. But much more than that, it is my favourite place because it has such a peaceful atmosphere. I love to go there and just walk around soaking it up."
Shop Cat's Eyes collection here: https://marketplace.asos.com/boutique/cats-eyes-vintage
Cat's Instagram: @catlpatterson
Cat's Eyes Instagram: @catseyesvintage