A few months ago I was watching some Instagram stories posted by interior stylist and writer Hannah Bullivant, and they made my heart sing; Hannah shared some snippets from her aunty Pauline's home, which she explained was in sheltered accomodation. What I saw was an incredibly stylish and unique flat, full of personality. I absolutely loved it, it was just the kind of insight into a home that I love to see – and one that I think we don't see enough. It was unique living spaces like these that inspired me to want to start this website, I wanted to share diverse homes and find out about the people who inhabit them.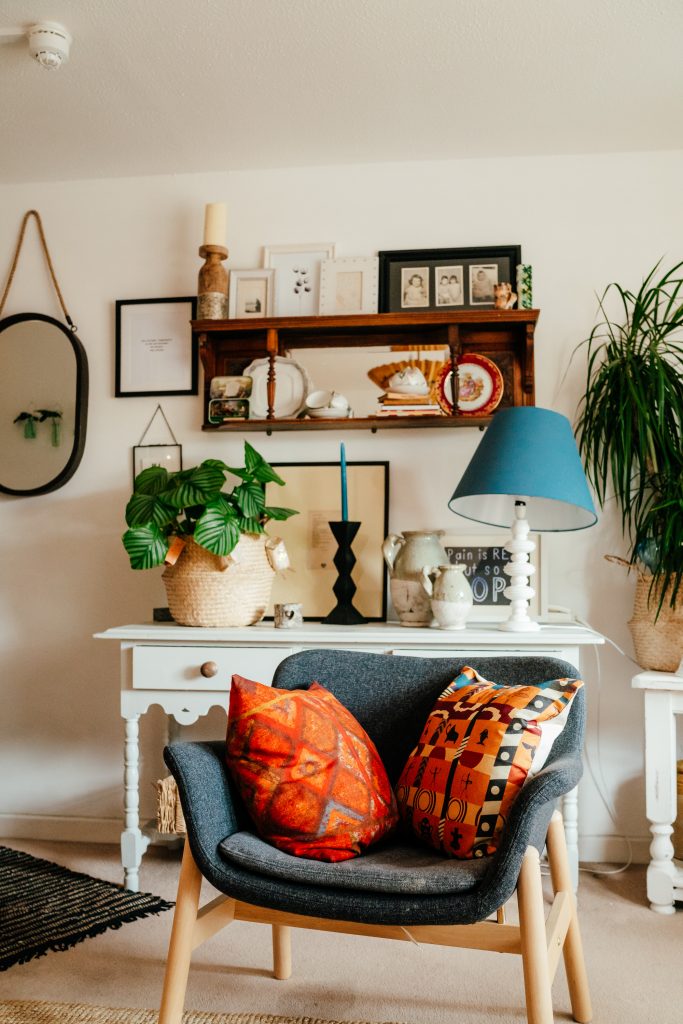 I reached out to Hannah who kindly put me in contact with her aunt, who I have since gone on to discover is a wonderfully fascinating and kind lady. Pauline Pink (yes, that's her real name) is a 65-year-old mother of two and grandmother of two, who works for her church managing all of the room bookings and general maintenance of the building. "My church is like my family," she says to me via email, "they have given me unbelievable support over the years, which has helped me through the toughest of times, including a divorce and a 2 year battle with breast cancer. It really is a privilege for me to work for a loving and caring community who have offered me so much support."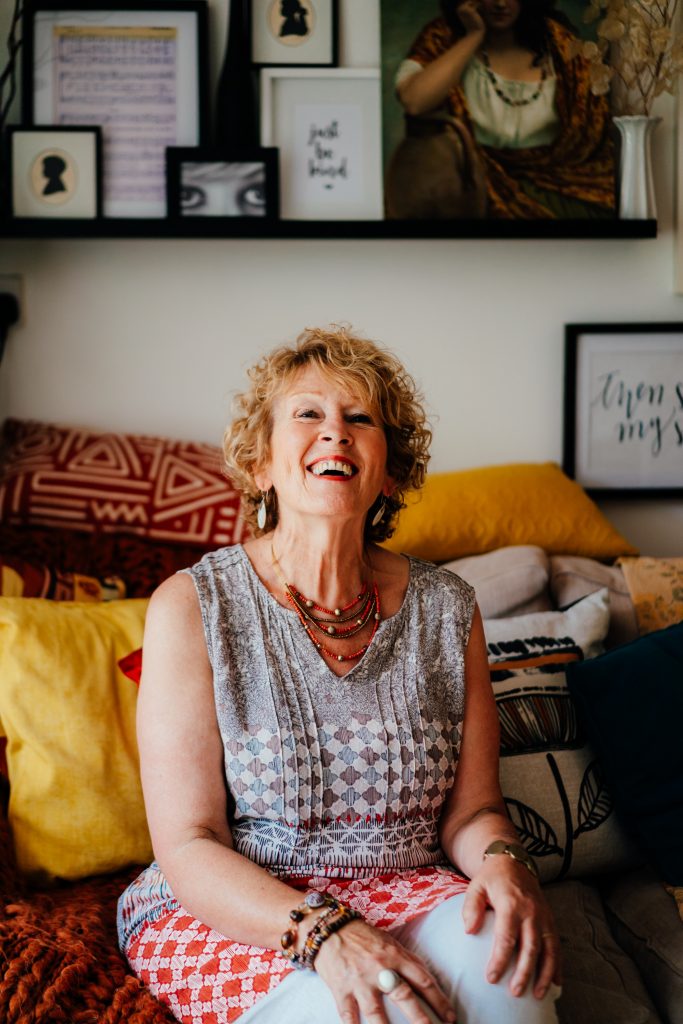 Pauline's values stem from her church community and her working life, as well as a wonderful and loving upbringing within an extended family. "Honesty, integrity, faithfulness, inclusiveness, kindness and generosity are all values which I sincerely hope are visible to other people when they spend time with me!" she says.
I was so pleased when Pauline agreed to answer my questions about her home and share some of her unique story; in fact her detailed and thoughtful responses resonated with me deeply, and they are paired with gorgeously intimate imagery shot by Pauline's photographer friend Angela Ward Brown (www.feastsshootsandleaves.co.uk/).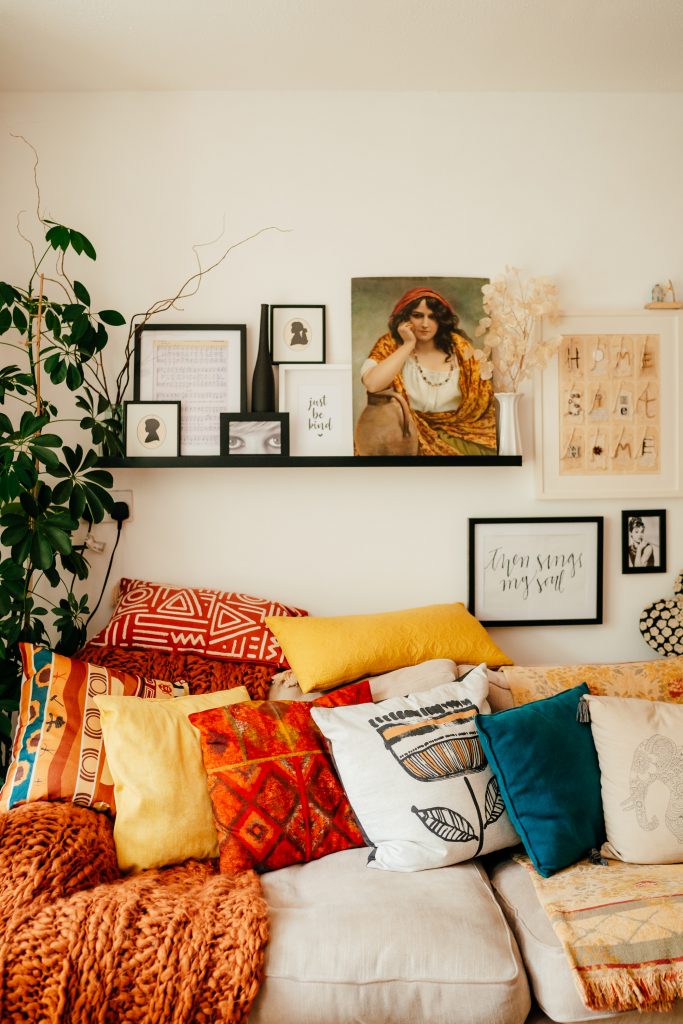 Pauline's passion for her home and unique spaces really shines through in this interview, and she also touched on her hopes and dreams for the future.
Hi Pauline – please can you tell me about your home?
I live in a rented, one bedroom flat in a purpose built, 1980s, over 55s (sheltered accommodation) block in the Southampton area and have lived here for over a year now. The landlord is Anchor Housing which also offers accommodation to purchase and various care homes. My flat basically has no character and no redeeming features to speak of; most people would run a mile! However, when I first viewed it I knew that I could make it my own and happily put my name down on the waiting list. I was no. 48 on the list and ended up having to wait two and a half years! However, I'm incredibly happy here and the advantages far, far outweigh the very few small disadvantages.
The flat has one bedroom, a reasonably sized lounge, possibly the smallest hall I have ever seen (with 7 doors in it) and a tiny windowless kitchen and bathroom. The residents may replace the whole bathroom suite and fitted kitchen but we may not change or disguise the tiles, replace the work surfaces, paint or replace the kitchen cabinet doors or replace the non-slip flooring. Each flat needs to be left exactly as it was when we moved in. As you can imagine, this overall challenge really did nudge me towards my 'styling ability limit' but I have to say, I enjoyed every minute of it. I came up with most of the ideas and my family and friends helped me with the decorating and DIY jobs.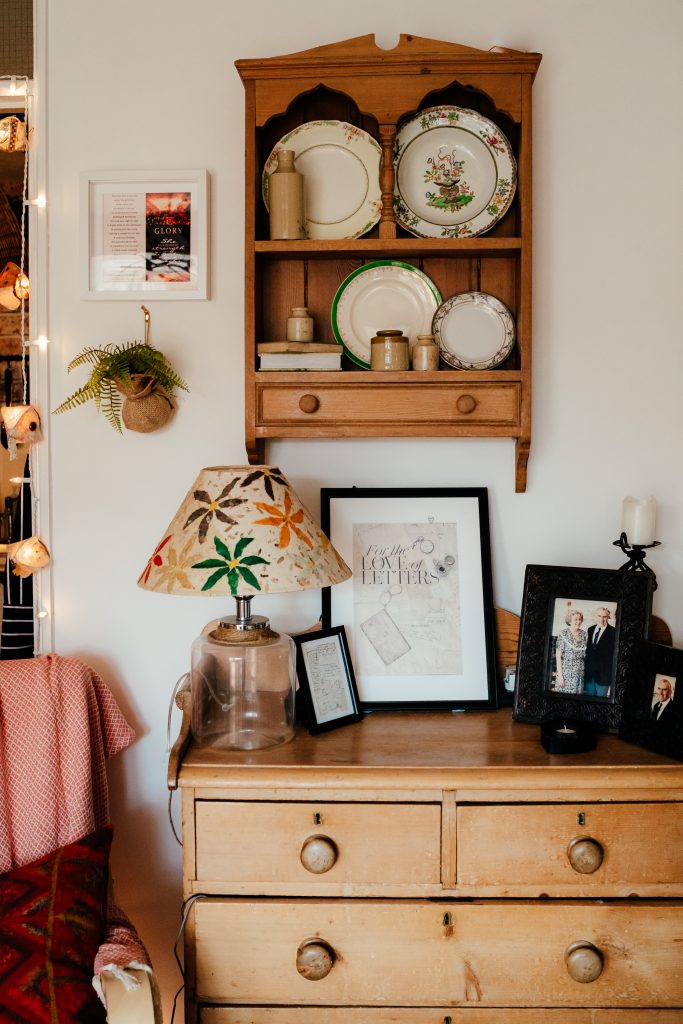 Can you tell me a bit about your experience with styling on a budget? You talk about this quite a bit on your Instagram page @pauline.pink
Over the last 20 years or so, I have had genuinely very little spare money, so have had to give time to being inventive with ways to create a stylish home. I have absolutely no desire to own the latest in contemporary kitchens or bathrooms. I am at my happiest when I have a basic room to work with that has very little to offer, which is exactly what I was faced with when I moved into my flat. My kitchen and bathroom were both dated and boring; the kitchen was 80s beige and the bathroom was 80s blue! The basic equipment was all in good working order which was a blessing.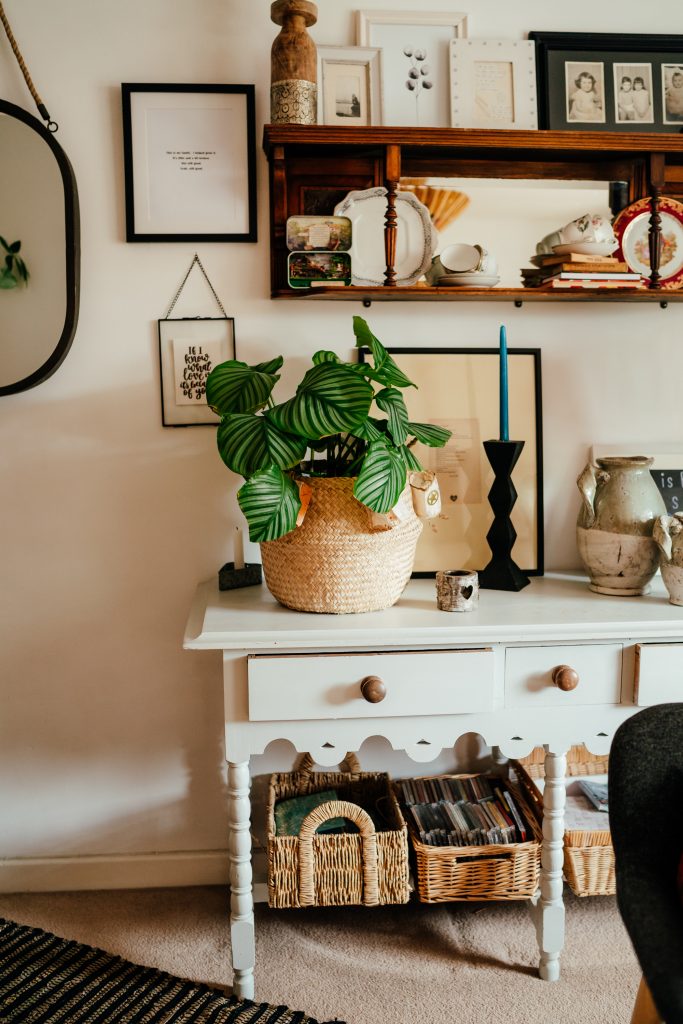 What is your first memory of home, and what does the word 'home' mean to you? 
I remember sitting in my nan's sitting room, on my mum's knee, listening to Listen with Mother on the radio. It was very exciting! I have such happy memories of my childhood. I feel very blessed.
A home is a place where, with a minimal budget, I can create 'something from nothing' which is hopefully surprisingly stylish, unusual, welcoming and warm and crammed full of textures, visual displays and delights, tokens from nature and also includes expressions of my faith. It is a space for me to express my interests, passions and hobbies etc., and to be brave with my styling decisions.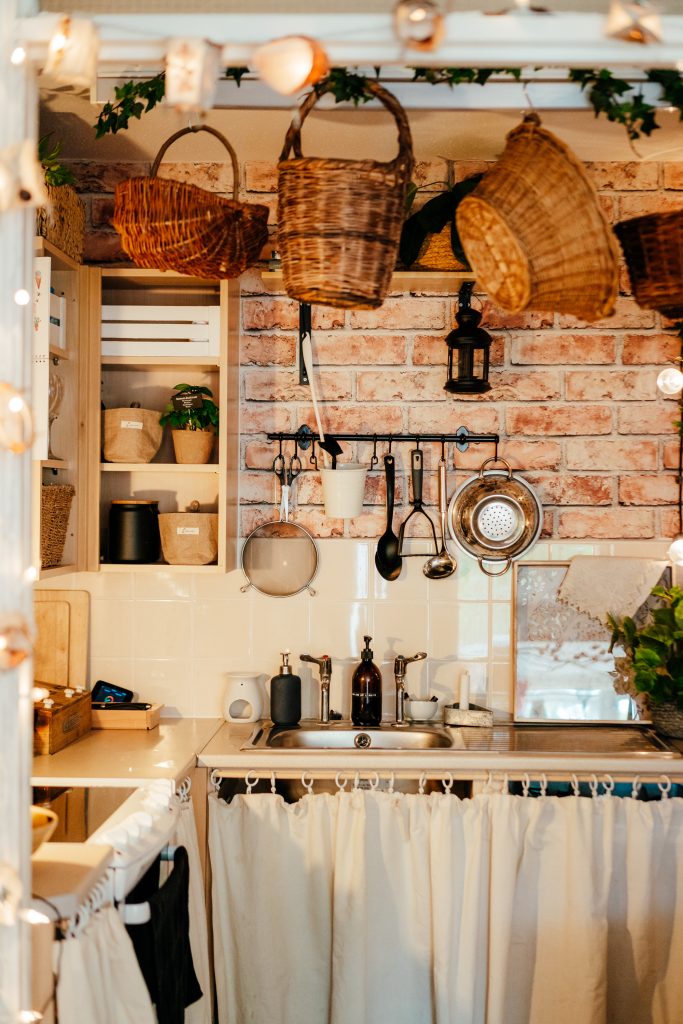 My love of all things cheap, cheerful, second hand and recycled does not mean that I do not appreciate other peoples' homes and styling skills. I love spending time admiring friends' and family members' homes and also interiors on Instagram and in magazines. I fully realise that my way of living is not for everyone!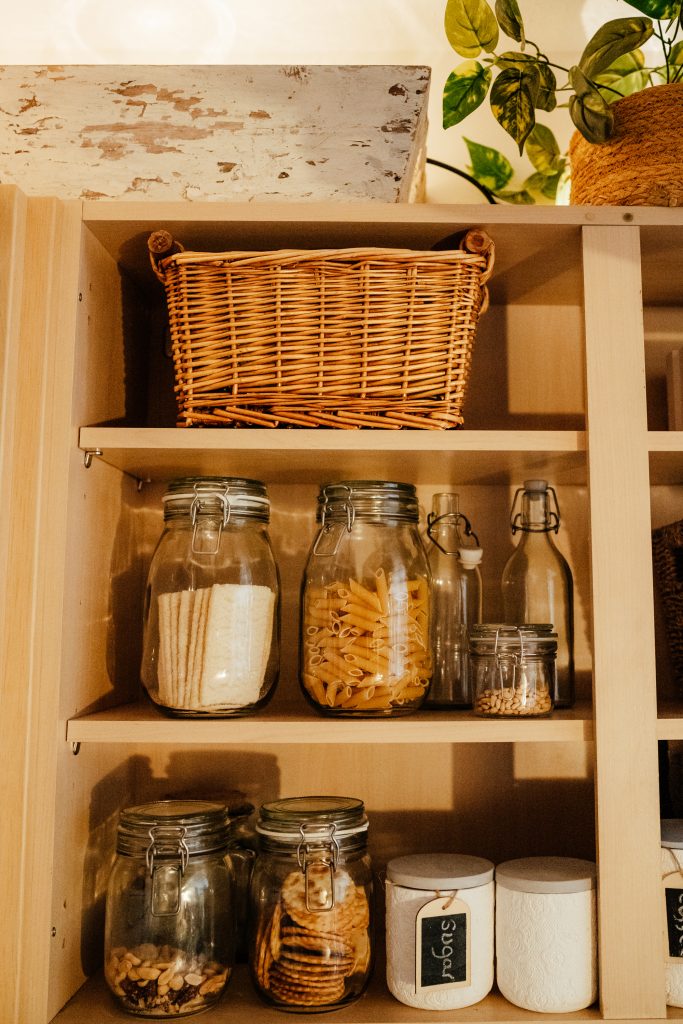 How would you describe your interior style?
I honestly have no idea! I guess it's a mixture of many things. Brave (a bit), eclectic, unusual, interesting…I love cheap, old, worn furniture but also embrace more contemporary pieces. I have nods here and there to my appreciation of nature, especially branches and twigs; there are examples of my love of textiles; I have far too many gorgeous cushions; I have some vintage curtains but also some second hand modern ones; there are many repurposed and repainted items; my walls are filled with faith building and inspirational framed quotes – all in second hand frames.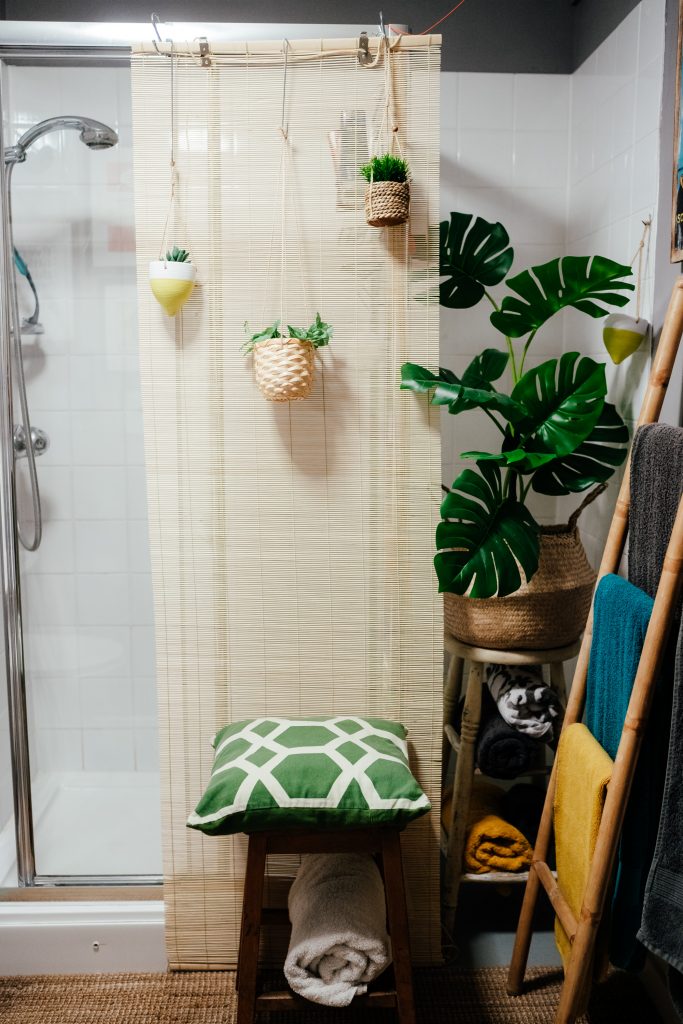 Where are your favourite places to shop for homeware?
There is a stunning garden centre locally called The Garden Society and it has the most amazing homeware section. The prices are reasonable and it is styled in a creative and interesting way. I love Ikea, my local Oxfam furniture store, Newbank Garden Centre in Bury and my local emporium Robins Nest.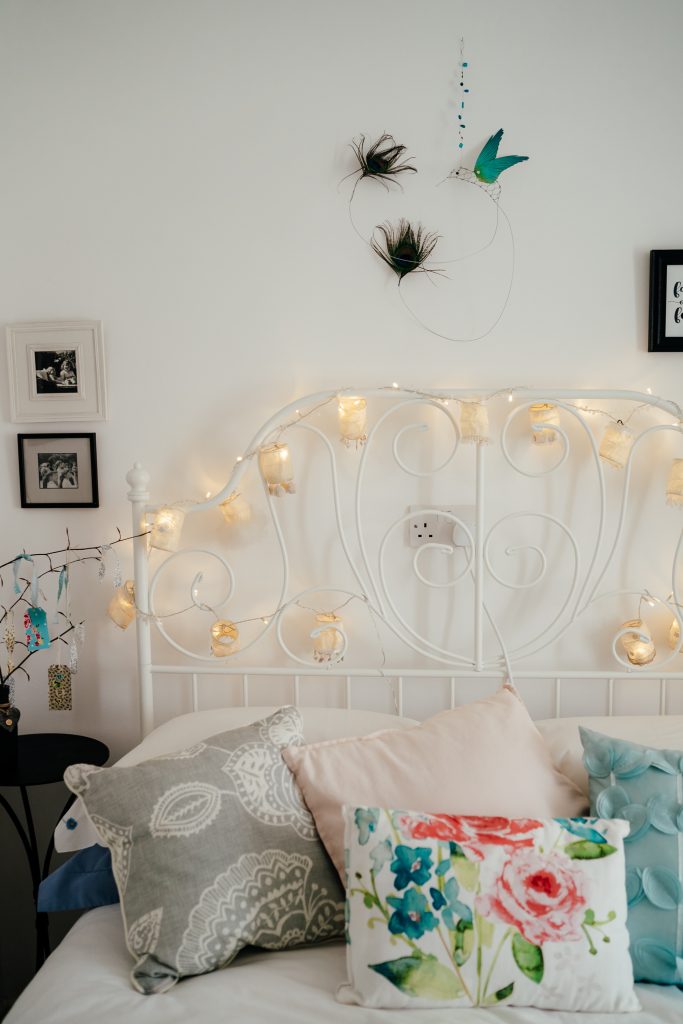 I love charity shops in general but one special one in particular; my daughter Kira has recently opened a brand new charity shop in Totton, Southampton. It's an Oakhaven Hospice Shop, and Kira's desire is that it is presented more like a boutique than a charity shop, to hopefully ensure healthy sales each week. The window displays are gorgeous and I've been helping her style the rest of the shop. It has been massively challenging to try to style walls and shelves with other peoples' cast-offs but the feedback and general comments are really encouraging.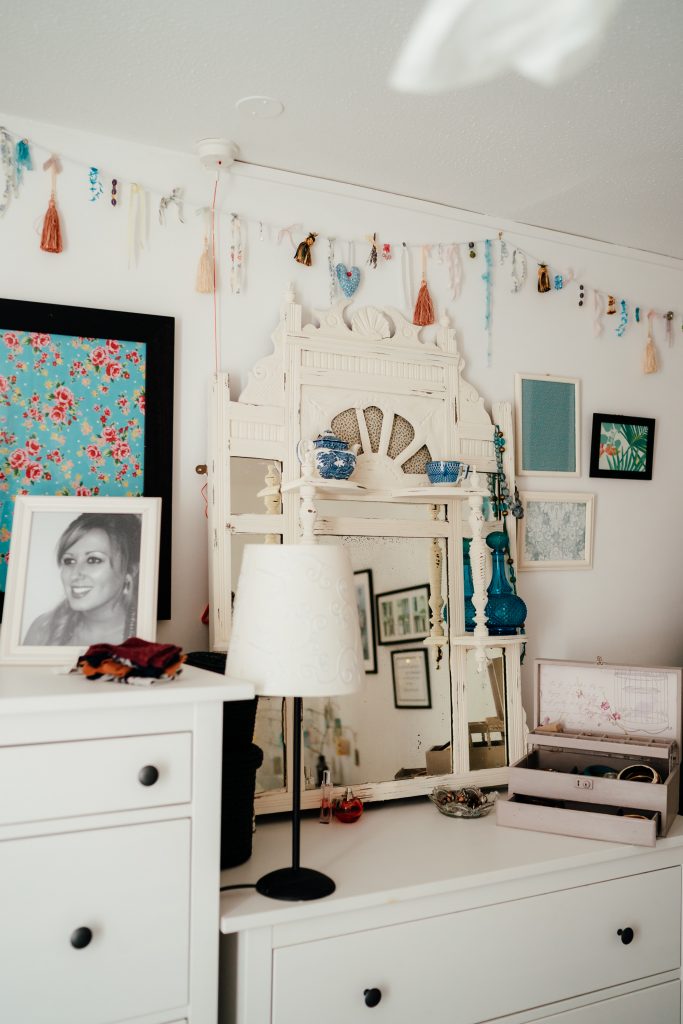 Do you have a favorite item in your home?
This is an overmantle mirror in my bedroom, which we found in a junk shop in the 1970s and cost around £3.00 I think. I love the shape of it with its tiny mirrors, shelves and candle sconces. It's been painted a few times over the years and I continually change the fairy lights, candles, necklaces, jugs and teapots I keep on it.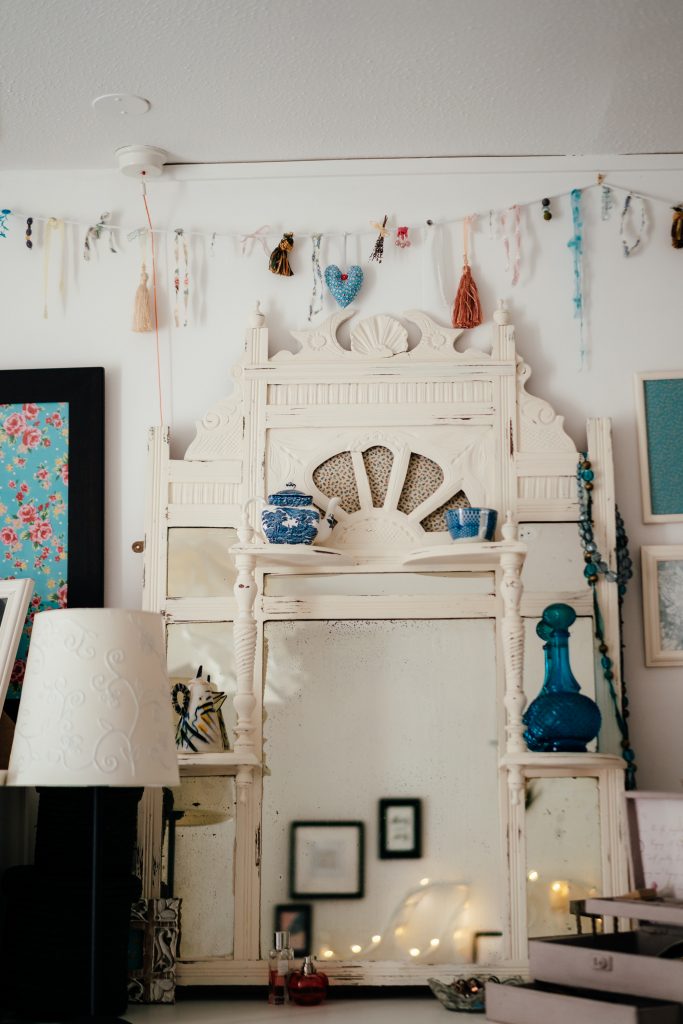 What are your hopes for the future?
To remain well enough over the next twenty years to be able to be helpful and supportive of friends, family members and the local community. I'm proud to be an active member of my church, which is known to be outward looking, community hearted and contemporary in its thinking. It has birthed several exciting projects both locally and overseas.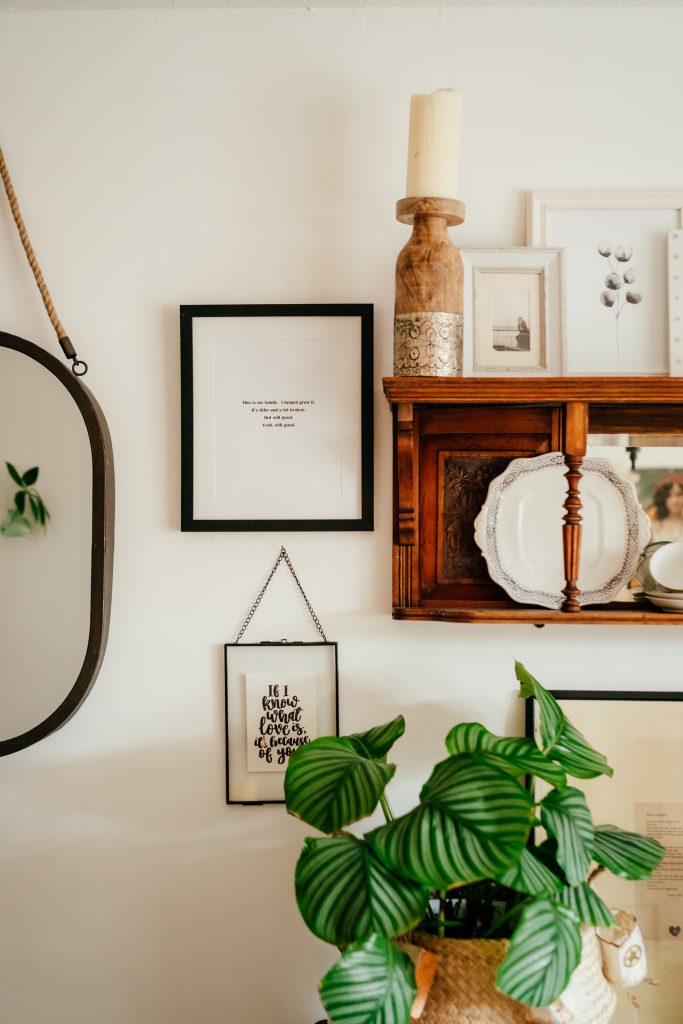 One of my desires is to be able to help people (young and old alike) with very little spare money and/or living in what some may think is an 'undesirable place' to understand that is completely possible to create a stylish, warm and lovely home. I would also love to think that I could raise awareness to young people that the older generation can definitely compete in the world of styling and interiors.
I'm currently exploring the possibilities there may be out there for me to get a little business going which will help to support me financially over the coming years.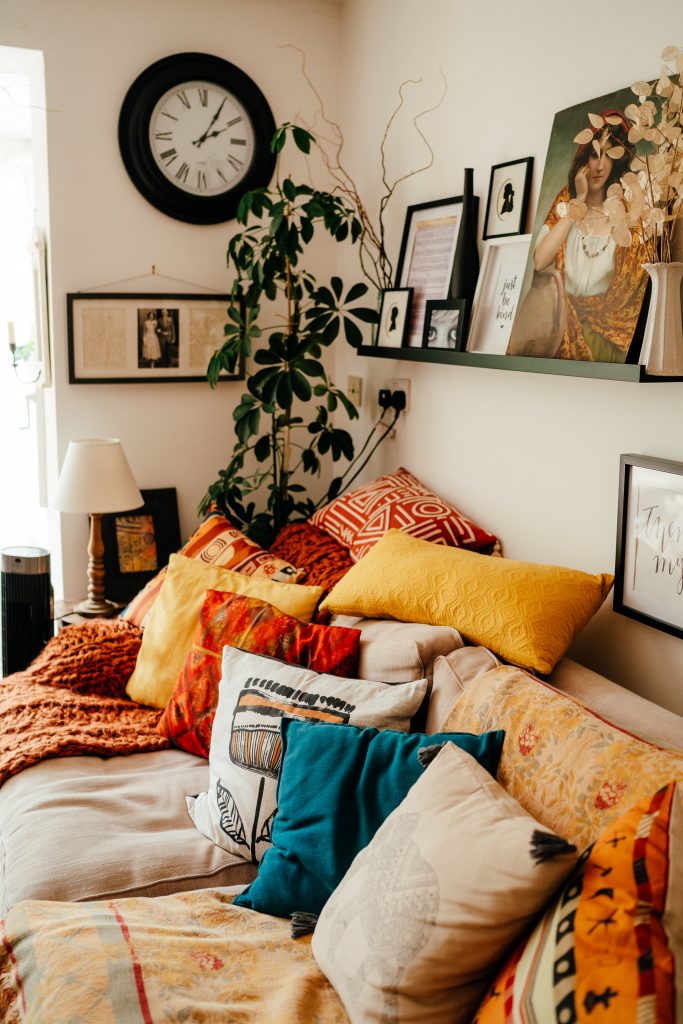 Pauline's favourite texture:
"I live next to Southampton Common and the New Forest and I have a deep love of anything that the forest cares to introduce to me! Branches, twigs, bark, pine cones, acorns, leaves etc. My flat is full of examples of my appreciation of nature and I am always looking for more ways to display twigs and branches! I literally have no idea where and how this love began!"
Pauline's favourite space:
"My go to place is a small beach on the South coast called Stokes Bay. I lived close by with my parents for a few years and they spent many happy further years around the area. It is fondly known as Grandma's beach in my family and over the years we spent hours and hours, together with my brother's family, gathering beach treasures, skimming stones, hobbling barefoot across the painful pebbles, getting drenched by the ferocious waves, bronzed by the summer sun and eating the 'biggest ice creams in the world!'"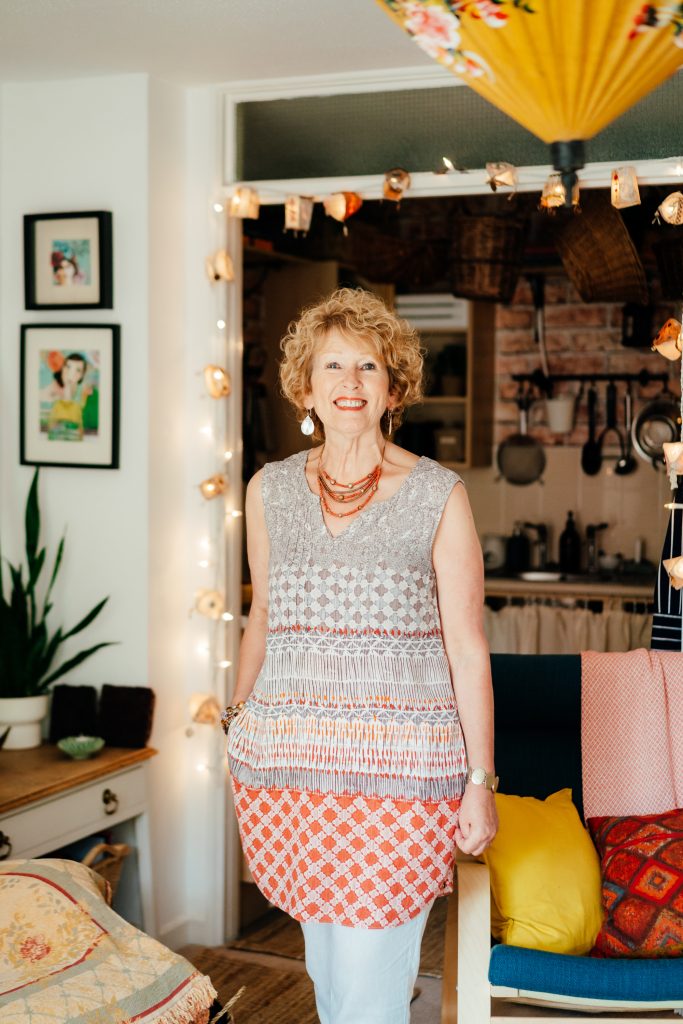 Pauline's Top Tips for Styling on a Budget
1) Be a constant and patient visitor to charity shops, second hand furniture shops, emporiums, markets etc. I have heard people say many times "I can never find anything in second hand shops!" My tip is to revisit each one and ask yourself questions such as:
"What can be repainted?" (as well as items of furniture, look at things like picture and mirror frames, candlesticks, vases, candleabras and light fittings. Empty frames can also be filled with different types of material or wrapping paper.)
"What can I repurpose?" (look at items like old books, newspapers and magazines, the pages of which can be framed or used for covering old mirror frames, old or interesting plates can be hung in collections on walls; old cushions can be transformed by covering in buttons, ribbon etc. and put in baskets.) The list is endless!
2) Let friends and family know you are always on the lookout for stuff they may be getting rid of. I have benefitted hugely from gifts from friends and work colleagues over the years.
3) Take a trip to Ikea, just to get some styling ideas; their stylists are inspirational and so creative!
4) Ask your friends for their reject home interiors magazines – I spend time just looking at each page to see which ideas I can copy cheaply!
Instagram: @pauline.pink
All photos credited to www.feastsshootsandleaves.co.uk/
Pin for later: