There's a new eye-catching construction brick on the block: the K-Briq®. With it's beautifully textured range of colours and sustainable credentials, it's already making waves in the building and construction industry, with design enthusiasts and home renovators sure to follow.
Professor Gabriela Medero is one of the makers behind K-Briq® – the first product developed by clean tech company Kenoteq, which was co-founded by Gabriela alongside Dr Sam Chapman.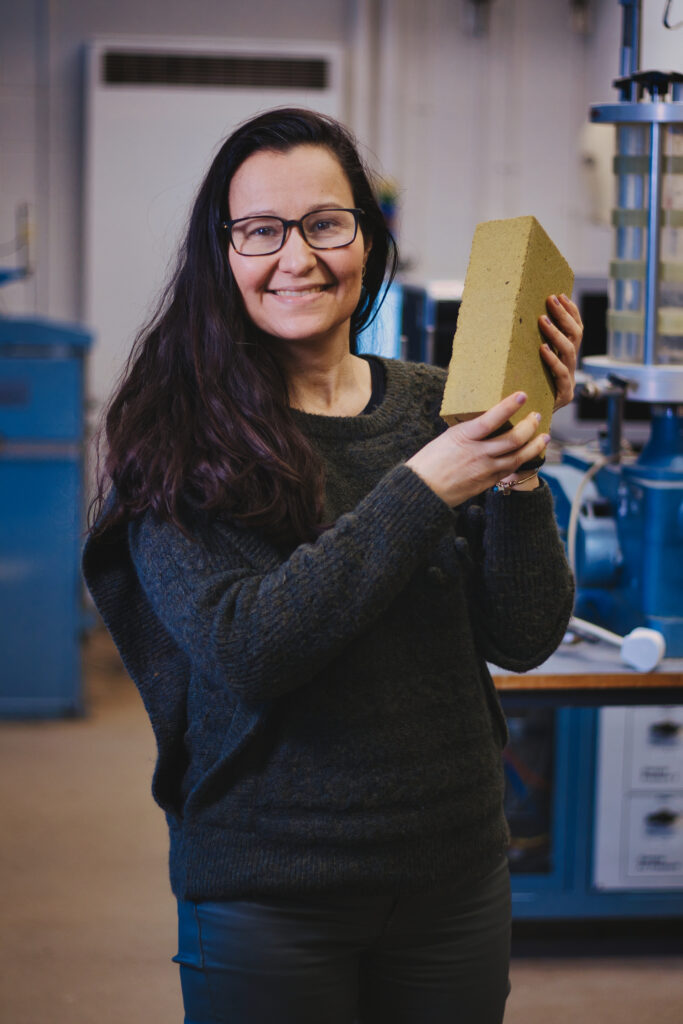 As well as her work with Kenoteq, Gabriela is a professor of geotechnical and geoenvironmental engineering at Heriot-Watt University in Scotland. She's a well-travelled academic force with a passion for sustainable design and supporting women within the male dominated STEM industry.
Intrigued by the K-Briq® and the makers behind the design, I got in touch with Gabriela to find out more about her background and what the future holds for this excting new building material.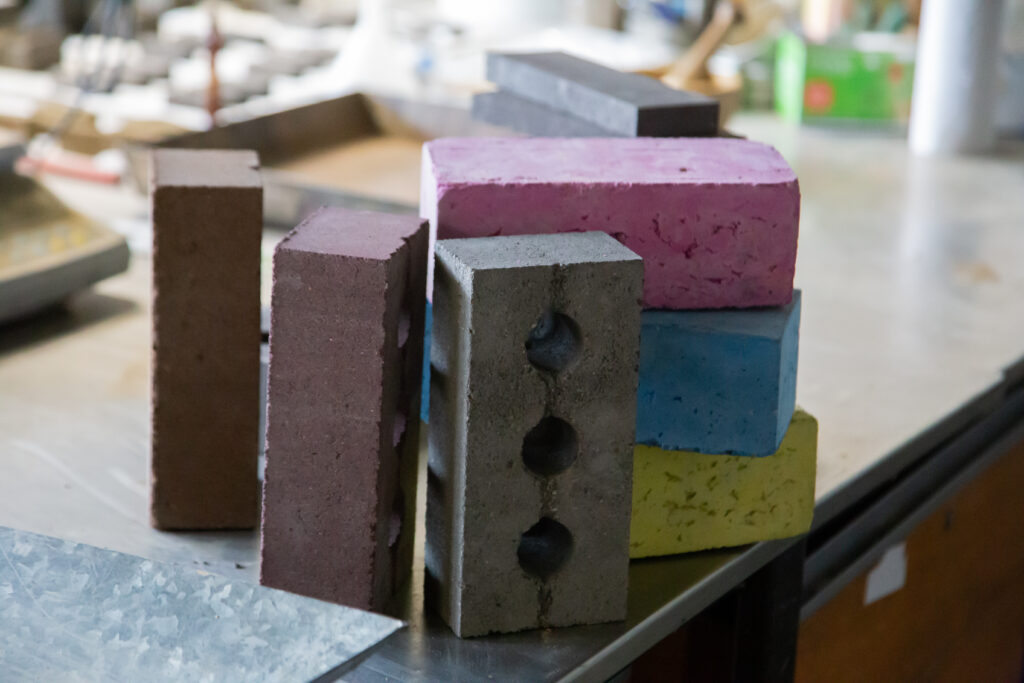 Please can you tell me about yourself and your background?
I am a deeply passionate person, and protecting the environment has always been one of my greatest passions. Since childhood, I have felt an enormous respect for the natural world, and now, as a parent, I harbour concerns about the future of our planet.
I qualified from the Federal University of Rio Grande do Sul (UFRGS) in Brazil, before completing my PhD jointly at UFRGS and the University of Glasgow. A year later, I became a lecturer in Civil Engineering with the School of the Built Environment at Heriot-Watt University where I worked my way up to the role of Professor.
As an expert in geotechnical and geoenvironmental engineering, my work with Heriot-Watt has allowed me to travel widely, including to Brazil and Colombia where I've undertaken projects to safeguard vulnerable populations from the threat of landslides. The frequency of this hugely destructive natural disaster is increasing as the climate changes. Working alongside local communities in these countries with a multidisciplinary team of researchers, we monitored critical points on their hillsides, engineering emergency surface drainage solutions and identifying early warning signs of landslides. Mitigating the impact of climate change and finding solutions to global challenges has underpinned my career.
Another passion for me is about supporting women into STEM careers and acting as an ambassador in a male dominated industry, so I place great importance on public engagement. I have visited primary schools to excite hundreds of school pupils about engineering careers and how it can help to change the world for the better. I am also enormously proud to be Chair of the University's Women's Engineering Society through which we promote, support, and encourage activity which enriches discussion amongst engineers of all genders about equality of opportunity.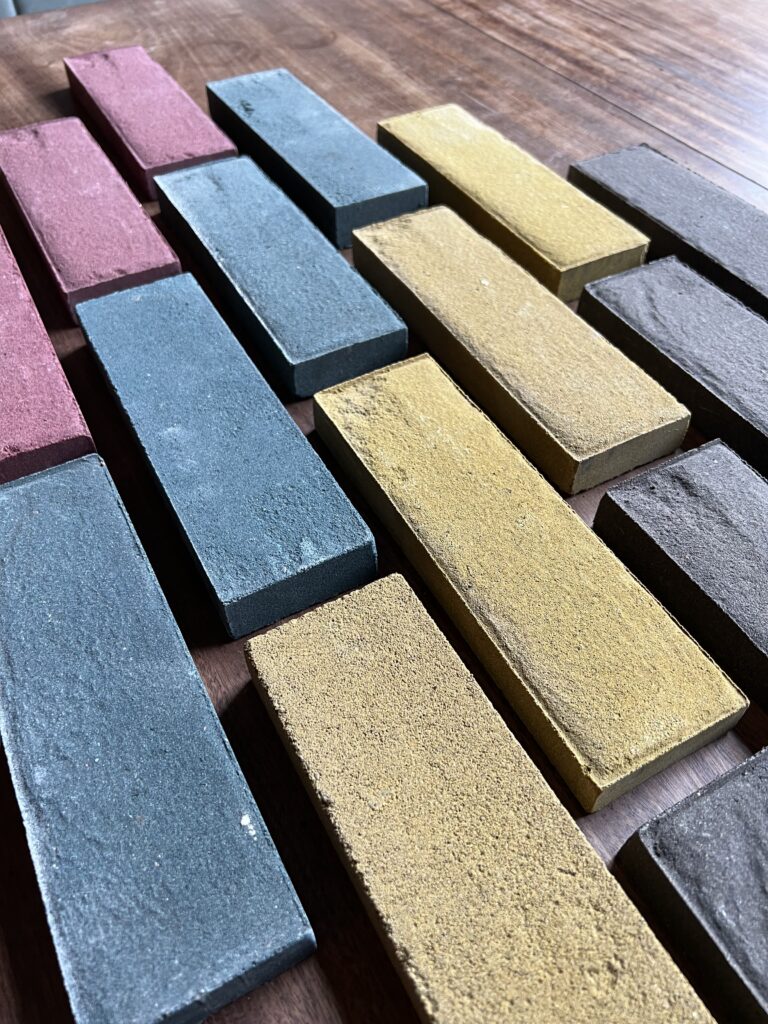 How did Kenoteq come about and what is your goal as a company?
I have long been concerned with the UK's construction industry's contribution to waste with this sector producing more than 120 million tonnes of waste each year, more than one-third of the country's total. It also generates 40% of Britain's carbon dioxide emissions while placing a damaging drain on the world's finite and precious raw materials.
This led me to consider construction methods which have gone unchanged for thousands of years. Our project 'K-Briq' was conceived following a research project at Heriot-Watt University, which explored sustainable, traditional construction methods. Identifying the limitations of historical techniques for modern day application, we set out to 'update' them. Objectives included helping the sector re-use valuable recycled materials from construction and demolition waste, reduce carbon emissions and limit virgin material exploitation.
Together with my co-founder Dr Sam Chapman, we spunout a company called Kenoteq in 2019. Kenoteq is now on track to produce several million K-Briqs® this year. I have used our innovation to raise the profile of geomaterials engineering as well as to drive 'sustainability in design and construction' back into the policy agenda.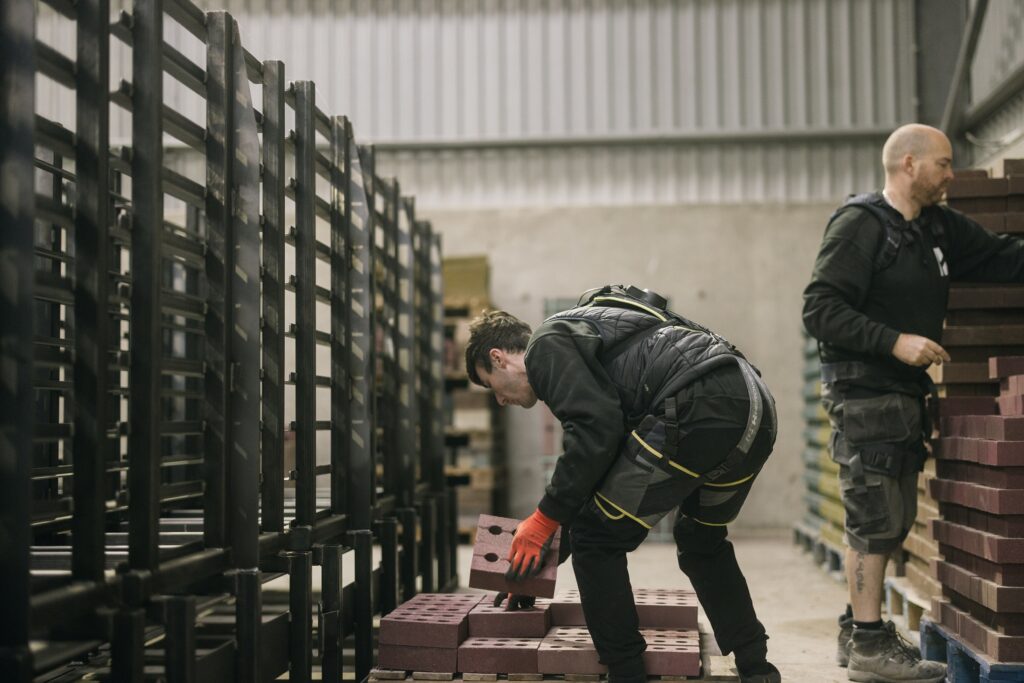 Let's talk about the K-Briq® in more detail – it's an exciting product. Can you explain in layman's terms what it is and tell me about its sustainable credentials?
The K-Briq® is made from more than 90% construction and demolition waste. The manufacturing process requires less than a tenth of the energy during production when compared to clay fired bricks while our method produces less than 5% of the greenhouse gases generated by conventional bricks.
K-Briq®'s sustainability stems not only from its manufacturing methods: its locality in the supply chain makes it a circular economy exemplar. We plan to produce K-Briqs® as close to the point of use as possible, through either a licensing or franchising model, with waste recycling centres across the country. In the UK, the construction industry currently imports 500 million bricks per year to meet national demand. Imports mean carbon intensive shipping and transport.
Using our model, trucks can drop off construction material waste at recycling centres with a K-Briq® manufacturing plant and return to their worksite carrying new K-Briqs®, gaining considerable efficiency for each driven mile. Manufacturing speed is a key advantage here: within 24 hours of the waste arriving at the processing facility, it can be reprocessed and made into K-Briqs® .
In terms of our future, we are thinking big! We know the K-Briq® can help the design and construction industries to meet their net zero targets. But creating a revolution in any industry is very difficult. More support from governments is essential, both globally and here in the UK. Too often, legislation lags far behind innovation, so companies working in design and construction need to be better incentivised to adopt sustainable practices and materials.
In design, legislation needs to make the integration of environmentally sustainable practices and materials as fundamental as fire prevention measures. Until they are enshrined in law, green building practices remain at the whim of the designer or client. Fortunately, a growing number of interior designers, developers and architects are embracing sustainable alternatives to help to curb climate change.
We've started to demonstrate how our bricks can transform interior design and have several large projects in the pipeline. Of course, developing greener bricks is just one way to build a more sustainable future but, as everybody knows, you can't build anything without laying the first brick!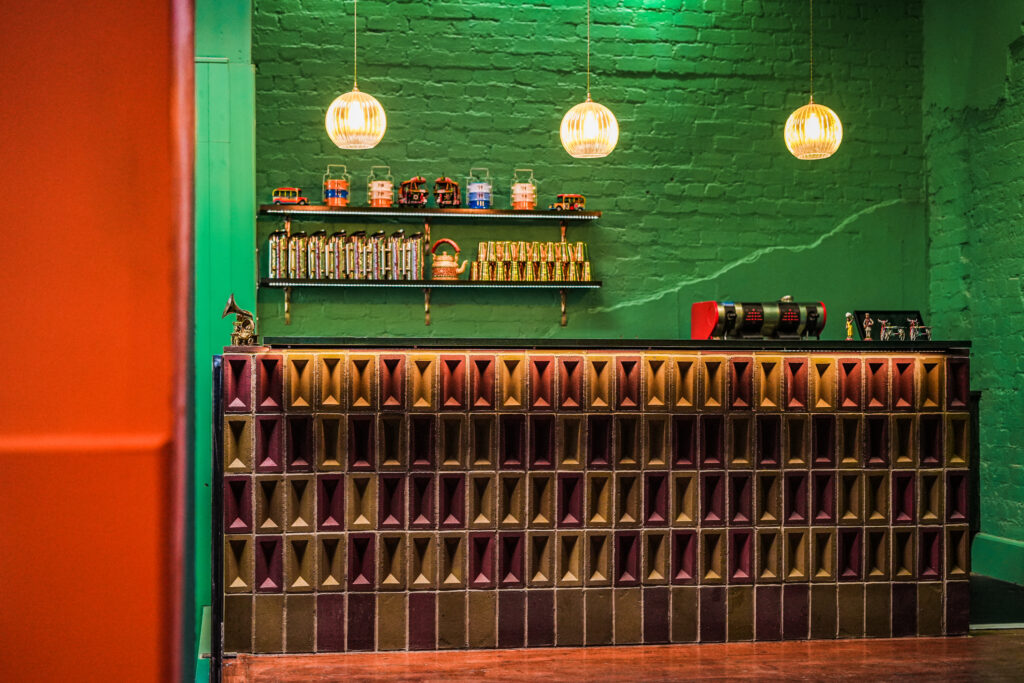 K-Briq® is available in 13 colours and can be colour-matched, which I think is great – can you share details of the recycling process behind creating the colours?
Our patented process using recycled materials means K-Briqs® are compressed rather than fired with a proprietary binder as our secret sauce. We include a recycled pigment to give each brick its distinctive colour. The colour-matching capability provides exceptional aesthetic possibilities far beyond those offered by traditional clay-fired bricks. A bold contrasting colour can set the K-Briq® apart as the sustainable centrepiece in any design project. Alternatively, a complementary colour choice can seamlessly harmonise the K-Briq® into a room or building's colour palette. For refurbishment projects, we can colour match the K-Briq® to existing bricks to offer a low carbon build solution to the extension or retrofit. This allows architects and designers to create unique colour palettes for their projects.
Can you tell me about the texture of the K-Briq® – is it the same as a standard brick or does it have its own unique feel?
Even though it's made without kiln-firing, which dramatically reduces the energy used , the K-Briq looks and behaves like a traditional brick. In terms of feel, it has a slightly sandy, rough texture with flecks of various materials visible throughout as a nod to its former life. The shape can be manipulated, crumbled, and shaped just like a clay brick to meet the needs of a variety of unique design ideas.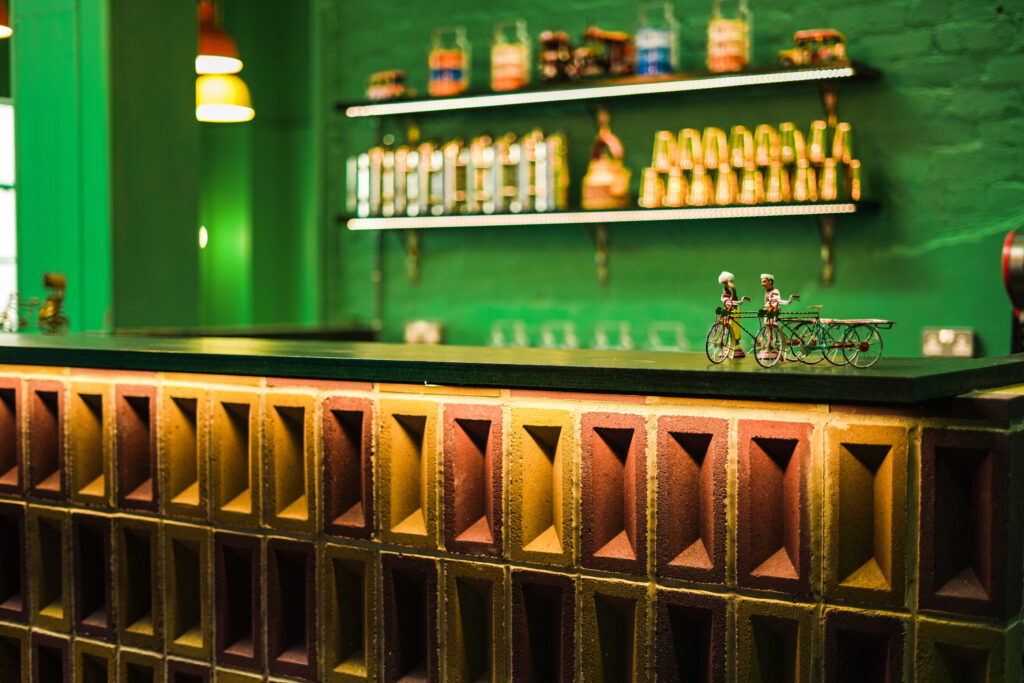 What is your favourite space where the K-Briq® has been utilised in so far?
I am excited about every single project that uses the K-Briq®; it is wonderful to see a dream being built in so many walls. For example, we recently completed an interior refurbishment project with Tuk Tuk Indian Street Food, a restaurant in Edinburgh. Working with bold interior design firm S+ CO, the K-Briq has added a unique and sustainable flair to the interior of the restaurant. The K-Briq® has been used to create a statement bar front, which is a focal point for diners and utilises over half a tonne of recycled construction waste in this single feature. A combination of frogged and solid bricks in a colourful mix of magenta and mustard make up the unique design.
CEO of Tuk Tuk Indian Street Food, Rizvi Khaleque told us: "The world needs to move rapidly towards a more sustainable future and the hospitality sector can take a leading role in this. At Tuk Tuk, we have thought deeply about how to make our restaurants more environmentally conscious as well as visually appealing for our guests by including design features that can contribute to the UK's net zero strategy. The K-Briq®'s frog brick with its unique pigmentation is completely different from anything else on the market and the final design feature's look and feel 'laid back' which complements our design and atmosphere. I love the colours."
There is no easy path that the hospitality industry can take to get back on its feet after the pandemic but by speaking with innovators and interior technologists, companies in this sector can start differentiating themselves by making bold choices in design, taking the opportunity to innovate and meet sustainability challenges head on.
Samples of K-Briq® can be requested from Lucy Black, Head of Business Development on info@kenoteq.com
www.kenoteq.com | IG: @kenoteq
Pin For Later: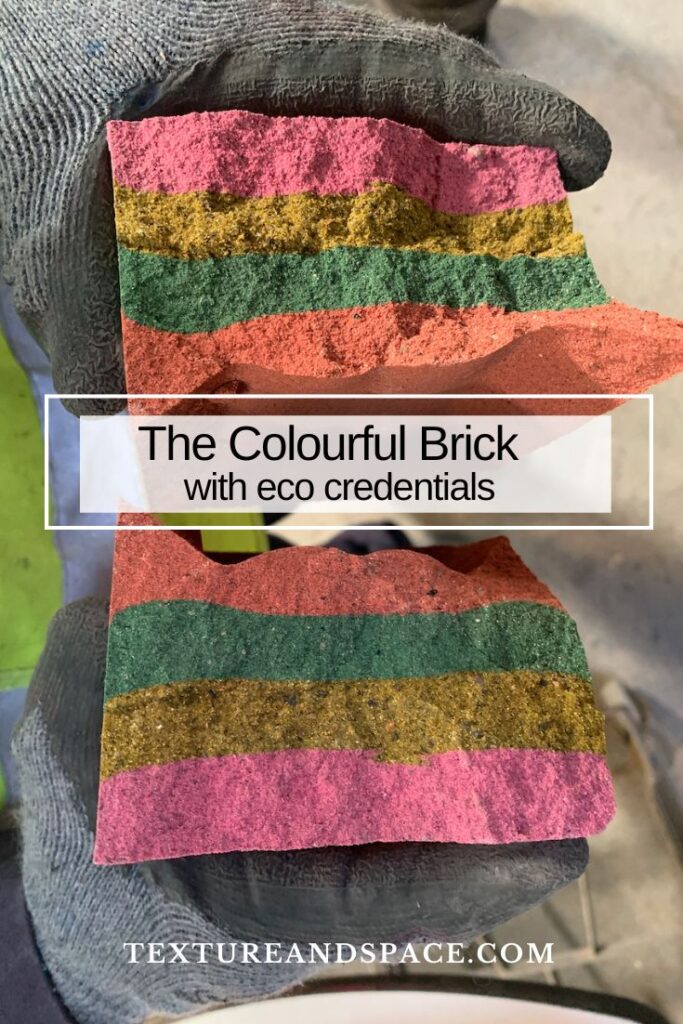 If you enjoyed reading about the makers behind K-Briq®, you may like to meet the founder of Blank Earth Ceramics.